LPAC Foundation receives $25,000
University of Antelope Valley founders for Arts for Youth Program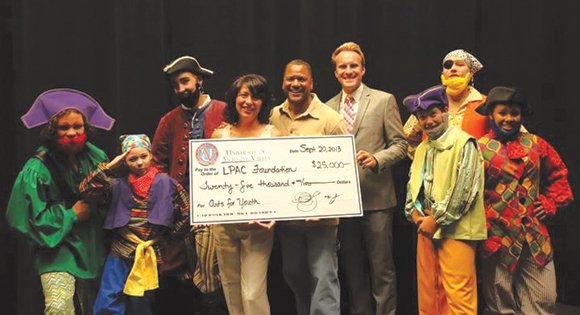 Marco and Sandra Johnson, founders of the University of Antelope Valley and the Marco and Sandra Johnson Foundation, have contributed $25,000 to the Lancaster Performing Arts Center Foundation.
"Being involved with dance from a very early age has undoubtedly played a key role in my approach and outlook as it relates to expressing myself in both my personal and professional life," Sandra said.
By bringing quality, inspirational and educational artists to LPAC; providing ticket scholarships to Arts for Youth performances at the theatre; and sending artists directly to school campuses through outreach programs, the Arts for Youth program continues successfully enrich the lives of thousands of students across the Antelope Valley.
The Johnson's donation has been designated for transportation/bus funding assistance for Antelope Valley schools.
"In addition to ticket scholarships, school outreaches, and Arts for Youth performances at LPAC, bus funding assistance is also offered to area schools. With the ongoing cuts to school budgets, transportation is a major obstacle in bringing students to the Performing Arts Center," said Lou Bozigian, LPAC Foundation president. "This contribution has afforded and will continue to afford more students, many of whom would not otherwise have the opportunity, the experience of a live performance.
It is with the support of businesses, organizations and concerned community members like Marco and Sandra, that the Arts for Youth program is funded," Bozigian said.
The newly formed Marco and Sandra Johnson Foundation was created by the Johnsons with the sole purpose of giving back to the Antelope Valley community which has played such a huge part in their lives. The foundation was established to assist families and individuals throughout the Antelope Valley region and southern California who are in need. The foundation will initially focus its efforts on creating educational scholarships, as well as providing food and clothing.
"Exposing children to the arts at an early age can open their eyes and imaginations to a world that they may not have known existed," concluded Johnson.