CicLAvia boosted sales for businesses along route, UCLA research shows
Next CicLAvia is Oct. 6
UCLA | 10/4/2013, 1:36 p.m.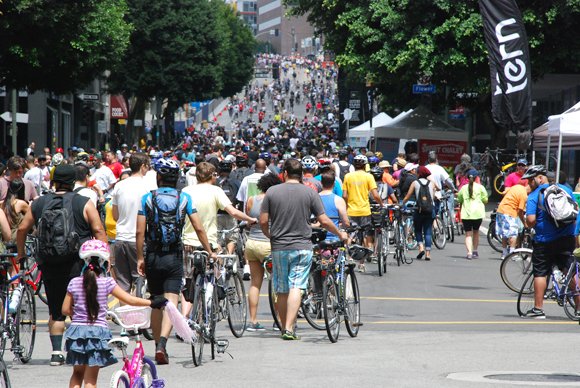 "The results tell us that local business seeking to maximize profits during CicLAvia should consider CicLAvia engagement strategies such expanding the business closer to the street with a booth, music or CicLAvia-specific signage," said Colleen Callahan, deputy director of the Luskin Center.
To conduct the study, researchers contacted a random sample of 128 brick-and-mortar establishments and 30 food trucks that participated in CicLAvia. Approximately 50 percent (14) of the food truck operators and a third (41) of the brick-and-mortar businesses decided to take part, providing their revenue data for both a Sunday before and the Sunday of CicLAvia.  
To overcome any possible selection bias, researchers also conducted head counts (as a proxy for customer business) for 33 establishments for which sales data were not available, as well as for a control group of businesses. This allowed them to control for overall effects not related to CicLAvia.
While the small survey size prevents extrapolation to other open-street events, additional studies could determine whether the effect is similar regardless of the particular neighborhood or event. Future studies could also seek to expand the sample size by including surrounding businesses, to examine how far the "CicLAvia effect" may exist.   
For more on CicLAvia, visit www.ciclavia.org.