Scientists find evidence of supervolcanoes on Mars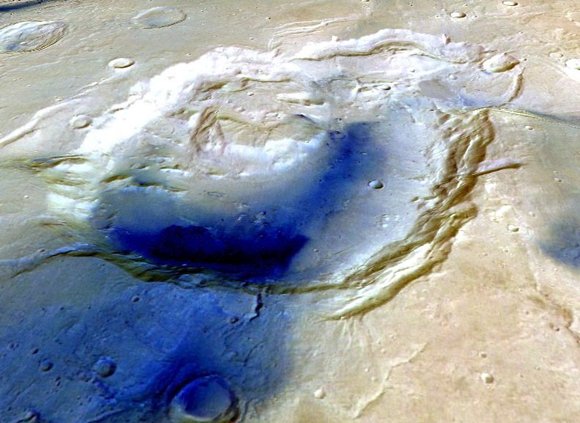 Scientists have long predicted that Mars had significant volcanic activity in the first billion years of its history, but images of the planet's surface haven't delivered as much evidence of volcanoes as they expected.
New research suggests, however, that scientists may have been looking for the wrong kind of volcanoes.
A new study in the journal Nature argues that a handful of geological formations on Mars that were thought of as impact craters were once, instead, supervolcanoes. They never looked like mountains; rather, they formed when the ground collapsed on itself in violent explosions.
"This is a totally new kind of process that we hadn't thought about for Mars, and it changes the way we view the evolution of the planet," said lead study author Joseph Michalski of the Planetary Science Institute in Tucson, Arizona, and the National History Museum in London.
The volcanic eruptions likely represented the biggest explosions in the history of Mars, Michalski said. These explosions would have occurred more than 3.5 billion years ago.
He and NASA colleague Jacob Bleacher focused on a region on Mars called Arabia Terra, which is speckled with craters. Bleacher could not discuss the study Wednesday, Michalski said, because of the United States government shutdown that furloughed most of NASA's employees. (But Mars rover operations, including driving and using scientific instruments, are continuing this week, a NASA spokesman said).
The researchers used data from instruments aboard several orbiters: Mars Express, the Mars Reconnaissance Orbiter, the Mars Global Surveyor and Mars Odyssey.
Particularly intriguing to them was a crater called Eden Patera, which did not have features consistent with an impact crater. Instead, it resembled a structure seen on Earth called a caldera, which is a volcano that has collapsed inward (caldera is also the Spanish word for cauldron.)
They believe Eden Patera is the best example of a possible ancient supervolcano on Mars.
When you think of a volcano, a cone-shaped structure protruding from the ground probably comes to mind. These, such as Mauna Loa in Hawaii, are essentially mountains of lava. But Eden Patera and other supervolcanoes on Mars never looked like that; instead, they represent the inward collapse of Martian terrain.
Eden Patera and other supervolcanoes would have been much smaller than Olympus Mons, a shield volcano on Mars about the size of the state of Arizona, and the biggest volcano in the solar system. But while Olympus Mons oozed lava, the supervolcano explosions would have been much more powerful, Michalski said — they would have thrown material all around the planet.
By comparison, Mount St. Helens erupted on Earth in 1980, spewing more than 0.24 cubic miles (1 cubic kilometer) of material over Washington state and surrounding areas. Supervolcanoes can produce eruptions spouting more than 1,000 times more volcanic material than that.
How a supervolcano collapses
How calderas such as Eden Patera form is similar to the process that created what is today Yellowstone National Park, Michalski said. A supervolcano there exploded 640,000 years ago; there was no mountain-like structure there beforehand.