No progress seen following White House meeting on shutdown
Democrats ask why they should have to choose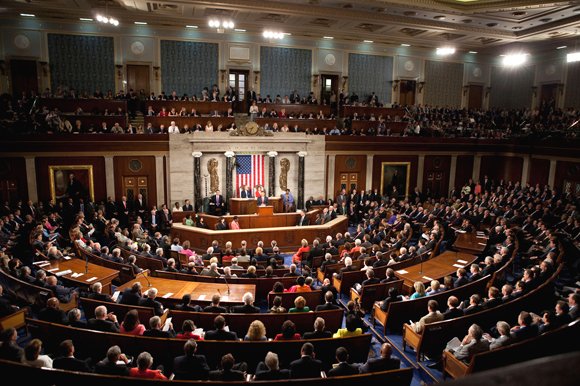 WASHINGTON, D.C.—After weeks of talking past each other, congressional leaders and President Barack Obama talked to each other Wednesday evening—only to emerge evidently no closer to a deal to halt the government shutdown.
A White House meeting appeared to do little to affect the stalemate between Republicans and Democrats, as leaders from both parties amplified their charged rhetoric by blaming each other for the impasse over funding.
Republicans, led by tea party conservatives in the House, have demanded that anti-Obamacare provisions be attached to any government spending plan, a strategy that Democrats have called a non-starter.
"At times like this, the American people expect their leaders to come together to find ways to resolve their differences," House Speaker John Boehner said after what he described as a "polite conversation" over Washington's fiscal stalemate. "The president reiterated one more time tonight that he will not negotiate."
A few minutes later, Senate Majority Leader Harry Reid claimed that it was Boehner—not the president or his fellow Democrats—who have refused to talk.
Reid said Democratic leaders offered Boehner "a lifeline" by setting up negotiations "about anything that you want to talk about" so long as the House agrees to reopen the government first.
"I thought that they were concerned about the long-term fiscal affairs of this country. And we said, 'we are too. Let's talk about it,'" the Nevada Democrat said. "My friend, John Boehner ... cannot take yes for an answer."
The back-and-forth suggested little movement over a government shutdown that began Tuesday. Nor has there been any sign of a breakthrough regarding the next budget crisis—whether Congress votes to lift the nation's debt ceiling.
In an interview with CNBC prior to the meeting, Obama said he was "prepared to negotiate on anything" regarding the federal budget—but only after Congress passes "a clean piece of legislation that reopens the government" and allows the "Treasury to pay for things that Congress itself already authorized."
"Am I exasperated?" Obama said of Boehner, who is under pressure from fiscal hawks, and is refusing to let the House vote on the Senate-approved spending plan. "I am absolutely exasperated, because this is entirely unnecessary."
Obama and Democrats accuse Republicans of using the need to fund the government and increase the debt ceiling as leverage for defunding or delaying the Affordable Care Act, Obama's signature legislative achievement.
"If we get in the habit where a few folks, an extr-emist wing of one party ... are allowed to extort concessions based on a threat of undermining the full faith and credit of the United States, then any president that comes after me ... will find themselves unable to govern effectively," Obama said. "And that is not something that I'm going to allow to happen."
Shutdown means furloughs for up to 800,000
The GOP-led House didn't rest on its laurels Wednesday—pushing through piecemeal spending measures that would fund specific programs, although there's no indication they will go anywhere in the Democratic-led Senate.
The incremental approach pushed by Sen. Ted Cruz of Texas seeks to pressure Democrats to approve spending for programs that Republicans like, but not Obamacare.