News in brief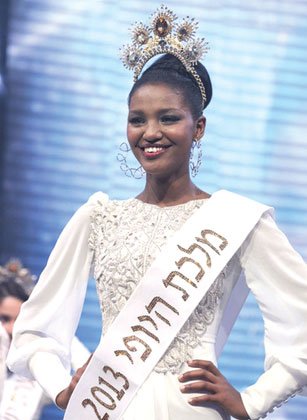 Miss Israel 2013, Yityish (Titi) Aynaw, visited Los Angeles' Little Ethiopia Saturday as part of an effort by the African American, faith-based initiative Juneteenth Education Technology Mobile Arts Center (J.E.T.M.A.C.) to lay the groundwork for a 2014 Juneteenth Israel Reconciliation Tour, July 7-17. The goal is to build closer relationships with Israel through the Jewish Ethiopian community. The Ethiopian Community Development group, a project of the Southern California-based non-profit Community Partners, hosted a "meet and greet reception" on her behalf at the Little Ethiopia Cultural Center in Los Angeles.
The Ethiopian-Israeli beauty queen, a model who was the first Ethiopian Jew to win the contest, also attended Saturday morning service at a synagogue in Beverly Hills.
Miss Israel's trip to America included stops in Washington, D.C., Virginia, Illinois, and California.
•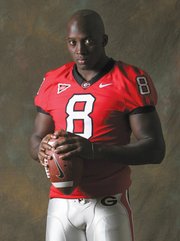 Paul Oliver, who played defensive back at the University of Georgia then in the NFL for the San Diego Chargers, was found dead Tuesday night from an apparently self-inflicted gunshot, police in suburban Atlanta said. He was 29.
Oliver apparently shot himself in front of his wife and young sons.
Police found Oliver's body at the bottom of a set of stairs in a home in Marietta, Cobb County police spokesman Sgt. Dana Pierce said. He said the county medical examiner ruled the death a suicide by handgun and gave police authorization to release the cause.
Oliver played for the Chargers from 2007 to 2011, recording 144 tackles in 57 games.
•
USC fired Lane Kiffin early Sunday morning in its first mid-season football coaching change and assistant head coach Ed Orgeron was appointed interim coach.
Athletic Director Pat Haden informed Kiffin of his firing upon the team charter flight's arrival at Los Angeles International Airport about 3 a.m., according to a four-paragraph statement released shortly after 4:30 a.m.
Haden said at an afternoon campus news conference he told Kiffin he wanted to see him when he returned to Los Angeles from Saturday night's 62-41 loss to Arizona State in Tempe, Ariz.
"We met around 3 a.m. for about 45 minutes in a private room in the airport," Haden said. "Lane was clearly disappointed and battled me. He tried to keep his job and I respect him for that. At the end of the day, I think it was the right decision."
•
Jerry Sandusky's effort to appeal his conviction was denied Wednesday. The former Penn State football coach was convicted last year of 45 counts relating to the sexual abuse of young boys.
•
Actress/singer Simone is suing her former lawyers for allegedly mishandling aspects of the estate of her mother, legendary Jazz and R&B singer Nina Simone.
Simone filed the breach-of-contract suit Friday on behalf of herself and her mother's estate—for which she serves as administrator—against the Los Angeles law firm of Weinstock, Manion, Reisman, Shore & Neumann. She is alleging damages of at least $450,000 alone due to potential penalties and interest assessed by U.S. tax authorities.
According to the complaint, Simone, also known as Lisa Simone Kelly, hired the Weinstock firm in 2003 and used their services until November 2009 to help in the resolution of her mother's estate. Nina Simone died in April 2003 in France at age 70 after suffering from breast cancer for several years.