Civil rights activist Evelyn Lowery laid to rest
Established key programs and initiatives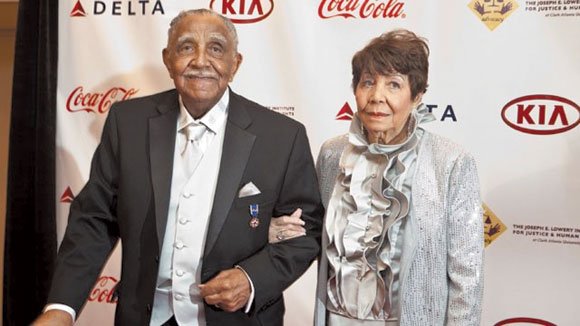 "The nation has lost a great leader and advocate for civil rights, women's rights, human rights and social justice for all people. We know that our world is a better place because of the life's work of Mrs. Lowery and SCLC W.O.M.E.N. So many of our unsung heroes and sheroes of the Civil Rights Movement would not have been recognized for their sacrifices if it was not for her work in organizing her annual Civil Rights Heritage Educational Tour that traced the steps of the Civil Rights Movement through Alabama.
Barbara Arnwine, president and executive director of the Lawyers' Committee for Civil Rights Under Law said: "The Lawyers' Committee is saddened by the passing of Evelyn G. Lowery, a civil rights activist and leader, who worked tirelessly to promote racial justice and equality and to ensure that women in the movement had a voice as well."
The Lowerys' participation in the Selma-to-Montgomery march supporting African Americans' right to vote was just one aspect of the couple's historic lives. They were among the pioneers of the American civil rights movement from its beginnings in the 1950s.
Evelyn was the founder of SCLC's sister organization—SCLC/Women's Organizational Movement for Equality Now Inc., created in 1979.
The purpose of the group, according to a bio on her group's website, is to "champion the rights of women, children, families, and responding to the problems of the disenfranchised regardless of ethnicity, gender, age, or religion."
In the 1980s, she founded several prominent programs, according to the profile. One is the Drum Major for Justice Awards Dinner, which honors people who made contributions in the arena of social justice. Another is the Evelyn G. Lowery Civil Rights Heritage Tour that honors icons of the civil rights movement. She is also responsible for the establishment of monuments honoring those icons.
She founded the Women's Empowerment Training Center for GED/computer training in 1988 and a mentoring program for girls in 1995.
Lowery was the daughter of a clergyman in Memphis, Tenn., who served in the local NAACP.
"Young Evelyn's eyes were exposed to the injustices (in) society, and before the age of 18, she committed herself to working towards making those conditions better," the website bio said.
CNN's Tenisha Bell and Jason Hanna contributed to this report.