Civil rights activist Evelyn Lowery laid to rest
Established key programs and initiatives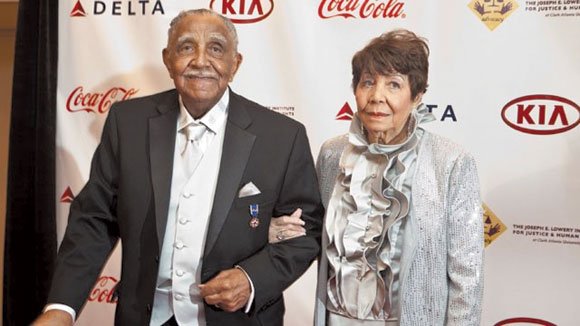 A series of public tributes were held this week in Atlanta to celebrate the life of civil rights activist Evelyn Gibson Lowery, who with her husband, the Rev. Joseph Lowery, participated in the 1965 Selma-to-Montgomery march in Alabama.
Evelyn died Thursday morning at her Atlanta home, a family spokeswoman said. She was 88.
She suffered a stroke last week, and last Wednesday returned home from a hospital after medical personnel decided "there was nothing more medically that they could do," the Lowery family said in a statement.
On Monday, a public viewing was held at Cascade United Methodist Church in southwest Atlanta. This was followed Tuesday by an Ivy Beyond the Wall ceremony conducted by members of Alpha Kappa Alpha Sorority, Kappa Omega Chapter at Clark Atlanta University's Davage Auditorium.
On Wednesday, Oct. 2, a viewing was held at Martin Luther King Jr. International Chapel on the campus of Morehouse College. Her homegoing celebration followed in King Chapel. Internment was at Westview Cemetery in southwest Atlanta.
"My beloved Evelyn was a special woman, whose life was committed to service, especially around the issues of empowering women," Joseph Lowery said. "She was a wonderful mother and wife and I thank God that she didn't suffer any pain and that I was blessed having her as my partner, my confidante and my best friend for close to 70 years.
"I will miss her each and every day, but as a man of faith, I know that she is with her God. My entire family has been overwhelmed by the continuous outpourings of love, support and prayers that have come from across the country and we ask for your continued prayers over the next few days."
The leadership of the NAACP issued these statements following Lowery's death.
"A pioneer and champion in the civil rights movement has passed on," stated Roslyn M. Brock. "Evelyn Lowery's leadership was essential to the longevity and power behind the movement for equality. Ms. Lowery was a drum major for justice in her own right. Her spirit lives on in the initiatives she founded and in the activists she mentored across the nation," said Roslyn M. Brock, chairman of the NAACP Board of Directors:
"Today, we mourn the passing of a champion for civil and human rights," stated NAACP President and CEO Benjamin Todd Jealous. "Mrs. Lowery's foresight and leadership pushed the envelope of what organizations like the SCLC and the NAACP could do for women and families. Her legacy lives on in the coalitions she built and the strong foundation she laid. She was a hero and will be truly missed."
Many other accolades are being offered:
Melanie L. Campbell, convener, Black Women's Roundtable and president/CEO of the National Coalition on Black Civic Participation says: "Our hearts are heavy in learning of the passing of Mrs. Evelyn Gibson Lowery. Mrs. Lowery was a visionary founder and leader of the Southern Christian Leadership Conference, (SCLC), W.O.M.E.N., devoted wife and partner of Rev. Dr. Joseph E. Lowery, mother and a mentor to countless women and girls across the country. We send our deepest condolences to the Lowery family during this time of bereavement.