Explore space from Earth
Tour the world's first purpose-built commercial spaceport in New Mexico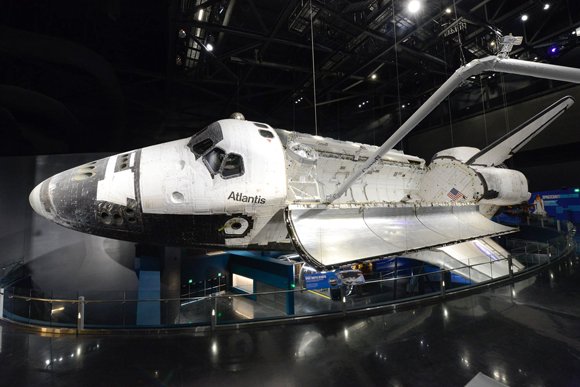 After looking to the past in Roswell, drive west to glimpse the future at Spaceport America in the Jornada del Muerto desert. Though not yet complete, the world's first purpose-built commercial spaceport is welcoming preview bus tours before operations kick into full gear. The spaceport's chief tenant is Virgin Galactic, the space exploration arm of Sir Richard Branson's Virgin Group, which has already taken over 600 (refundable) booking deposits for $250,000 seats on future space flights.
Tours offer a sneak preview of what's sure to be a headline-grabbing grand opening. The 18,000-acre Spaceport site is home to an airfield, launch facilities, the mission control building and the architecturally arresting terminal hangar. The 3?-hour tours also include information on the latest developments in space exploration technology and the new, commercial space race. Reservations are required. Contact tour operator Follow the Sun, Inc. Tours depart twice a day on Fridays and Saturdays, and once on Sundays. Cost is $59 for adults, $49 for children 13-17, and $29 for children 12 and under. 866-428-4786.
Manned shuttles no longer light up the sky above Kennedy Space Center in Cape Canaveral, Florida, but the center's visitor complex remains an essential destination for space enthusiasts. The biggest exhibit these days is the Space Shuttle Atlantis attraction, which includes not only the craft itself, but landing and docking simulators. Regular buses run to the Apollo/Saturn V Center, featuring historic vehicles and exhibits relating to the Apollo program and moon landing. Each day, a bona fide astronaut does a presentation on his or her life and experiences. And if you're lucky, you may even catch a rocket launch, which happen roughly every few weeks. The visitor complex is open 365 days a year, 9 a.m. to 7 p.m. Admission is $50 for adults, $40 for children 3-11. Call for reservations: 877-313-2610. (It's still open during the U.S. government shutdown.)
In the world of pop culture, nothing has inspired more would-be astronauts than "Star Trek." The little town of Vulcan in Alberta, Canada, has made the most of its Trekkish name, with a Star-Trek themed tourism office, a replica of the Enterprise, and other memorabilia. This summer it added the Trekcetera Museum, sure to put Vulcan more firmly on the mental map of any thorough Trekkie. Billed as "Canada's only 'Star Trek' museum," its displays feature original costumes and props from both the movies and TV shows. Fall opening hours are 10 a.m. to 5p.m., closed Tuesdays. Tickets cost $12 for adults, $8 for seniors and children.
Marie Glancy O'Shea | CNN