Wanda Coleman dead at 67
Champion of the down trodden and the under class.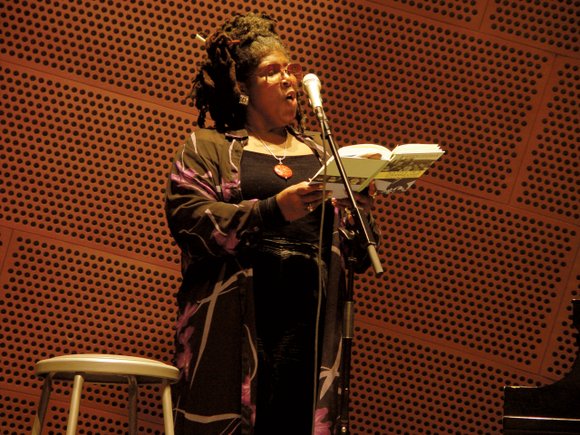 "I have never been able to afford the time or money to complete my formal education; yet I have persisted. It has been a very arduous road to hoe with few joys and few rewards, loads of suspicions, rumors, misunderstandings and disappointments—and over 5,000 rejection slips. Yet, I persist."
—From the Facebook page of Wanda Coleman

Noted author and poet Wanda Coleman, who helped broaden Los Angeles' literary reputation during the maelstrom of the 1960s, has died at age 67. Unconfirmed reports said she expired because of a brain aneurysm at West Hollywood's Cedars Sinai Medical Center, after a lengthy illness.
Born in 1946, this native Angeleno (by way of Watts) was brought up in a working class family that prized literature and music, passions that sustained the closeted bookworm as she negotiated an educational environ both hostile and callous.
Her intellectual predisposition not-with-standing, she found acceptance within the Los Angeles schools difficult due to her appearance, in sharp contrast to the acceptable standards of physical attractiveness for the time.
"I knew that the second I entered the classroom," she remembered in her 2005 series of essays, "The Riot Inside Me: More Trials and Tremors," "I would face the ongoing ridicule garnered by my kinky grade of hair, bright eyes, toothy smile, and dark skin—not from the White students, the few Mexican, Asian American, and Filipino students, or the teacher, but from my Black classmates."
Coleman said she wrote this title (in which she is heralded on the back cover as "the uncrowned poet laureate of Los Angeles") in response to both the 1965 Watts Riot (or if you wish, rebellion) and the 1992 uprising. The chapters and sub-titles within this collection of nonfiction prose do indeed reflect the turbulence of the times, with provocative chapter titles like "We are all O.J.," and "Angela's Big Night," the latter culled from a article in the L.A. Free Press deriding a fundraiser for leftist icon Angela Davis. This piece, filled with her trademark sarcasm, led to Coleman to being blackballed by the liberal and alternative press.
Her disconnect with formalized education continued after high school, as she attended a succession of colleges without earning a degree. Marrying and divorcing early, with two children to support, she worked at a series of low-paying jobs before drifting into journalism in the 1970s.
Coleman did receive some mentoring by way of isolated writing groups, such as the Watts Writers Workshop, which produced other such notables as Stanley Crouch, Quincy Troupe, and the Watts Prophets.
These experiences informed her persona as a perpetual outsider, unafraid to go against the grain of the status quo, be it the traditional gatekeepers of literary taste who, as she stated in her introduction "frequently left (Black writers) out of the larger dialogues, particularly those on race," and even the "sacred cows" of African American letters like Maya Angelou, whose autobiographical "A Song Flung Up to Heaven," was unfavorably reviewed by Coleman (she dismissed it as "a sloppily written fake") in the April 14, 2002 edition of the Los Angeles Times. This in turn, resulted in her being banned from Eso Won Books, the foremost retailer of Black literature in the city.
Coleman was not unfamiliar with the struggles of earning a living while following her artistic muse, collecting an estimated 3,000 rejection slips before achieving the endorsement of publication in small magazines and boutique book companies.
Another form of validation came for this college drop out with an invitation to teach at various institutions of higher learning, and the production of some of her plays at Stanford University, UCLA, and USC.
Her fierce individualism not-with-standing, Coleman did achieve success in "legitimate" bastions, becoming the first Black woman to win an Emmy as a writer for the soap opera "Days of Our Lives," in 1975-76, earning a National Endowment for the Arts grant in 1981-82, and winning a Guggenheim Fellowship in 1984. But, first and foremost, she remained an uncompromising wordsmith intent on pursuing her vision regardless of those offended in the process.

Wanda Coleman, alternatively known as the "High Priestess of Word," and the "L.A. Blues woman," was born Wanda Evans to George and Lewana Evans on Nov. 13, 1946. She is survived by her husband, the poet Austin Straus.