Homeless shelters open Dec. 1
Winter Shelter Program will operate 13 sites across 15 communities
11/27/2013, midnight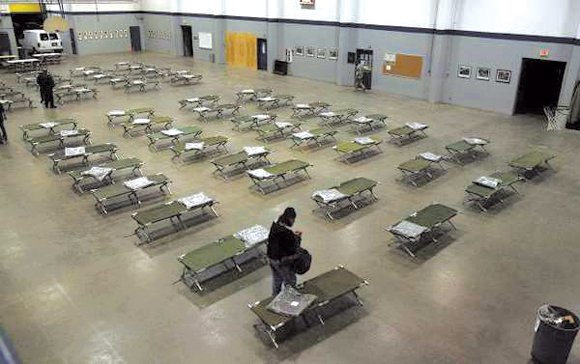 The Los Angeles Homeless Services Authority (LAHSA) will operate the 2013-2014 Winter Shelter Program (WSP) between Dec. 1 and March 14, 2014. Some shelters will open for service from Dec. 1-March 1, and the remainder of shelters will open from Dec. 14 to March 14.
"This is an annual Los Angeles Homeless Services Program that starts during the coldest and wettest months of the year," said LAHSA Commission Chair Larry Adamson. "This critical Winter Shelter Program is funded by the city of Los Angeles and County of Los Angeles and it is supported by the California National Guard, which provides shelter sites at several armories. We're proud to help nonprofit homeless service agencies contracted by LAHSA to manage each program site. The sites offer people experiencing homelessness with temporary overnight shelter, meals and help them connect to supportive services and stable housing," he added.
LAHSA's Winter Shelter program provides 1,491 beds at 13 sites in 15 communities throughout the city and county of Los Angeles. There are nearly 74 percent of people, who are homeless in Los Angeles having no shelter available on any given night.
"The winter shelter program provides critical crisis beds during the cold months where people who are homeless in Los Angeles are most likely to need a warm, dry place to sleep, " said LAHSA Executive Director Michael Arnold. "The program provides temporary overnight shelter and hot meals in programs scattered throughout Los Angeles City and County, many in areas where no other form of crisis housing exists."
Arnold noted that the program also provides an opportunity to connect with people, assess their needs, and triage them into the greater homeless continuum of care in areas where this is the only homeless assistance program available. "Shelters help resolve the most immediate needs of the homeless: having a bed to sleep and food to eat, in a safe and secure environment," said Arnold. "But more importantly, they serve as entry points into the Los Angeles Continuum (System) of Care for the homeless."
This winter season the shelters are being administered by the following service providers: Grace Resource Center (contracted by the city of Lancaster), East San Gabriel Valley Coalition for the Homeless, Volunteers of America of Los Angeles, Ascencia, Long Beach Rescue Mission, MJB Recovery, First to Serve, The Salvation Army Bell Shelter, LAMP Community Inc., Bridge to Home, and Bethel LA CDC (contracted by Volunteers of America of Los Angeles). These agencies will operate sites in Lancaster, Sylmar, Santa Clarita, Pomona, West Covina, Glendora, Hacienda Heights, Valinda, Rowland Heights, Glendale, Long Beach, Bell, Downtown Los Angeles, West Los Angeles, and South Los Angeles. LAMP Community Inc. will operate a pilot program to specifically target chronically homeless people in the Downtown Los Angeles area.
Admission to the shelters is available on a first-come, first-served basis for single individuals. People needing emergency shelter can get free transportation to and from the shelter locations from any of the designated pick-up points throughout the city and county.
Families seeking assistance at winter shelter locations will be connected to 2-1-1, the county's free information and referral line, or they may call 2-1-1 directly. Specially trained 2-1-1 operators will offer families appropriate shelter and supportive service resources as part of LAHSA's Family Solutions Center (FSS)
FSS started in February 2013 and continues in 2014. It consists of six regional community partnerships (or collaborative "centers") that include nonprofit, private and public entities. The centers will provide coordinated assessments, housing and supportive services to families year round as well as during the cold weather season.
For a complete listing of specific pick-up locations and start/end dates, call the Winter Shelter Hotline at (800) 548-6047.