Diverse is watch word in 54th Assembly District
Candidates reflect that as well
The three candidates running for office to complete the unexpired term left in the 54th Assembly District when Holly Mitchell was elected to the State Senate are much like the district itself—a diverse collection of individuals.
The special election will be held Dec. 3, and if no one wins 50 percent plus one vote, a run-off takes place in February between the top two vote-getters. The winner of that contest will serve out the rest of the term, which ends in November 2014.
The 54th District is home to nearly equal concentarations of three of the state's four main ethnic groups. Latinos comprise about 30 percent; Whites are a little more than 29 percent; and Blacks represent about 25 percent of residents. Asians trail with just a little under 13 percent of the population.
Politically Democrats dominate with about 63 percent of those living there identifying as democratic versus nearly 11 percent aligning with the Republican Party and a little more than 16 percent giving no party preference.
The 54th Assembly District includes the more upscale communties of Westwood, Culver City, Ladera Heights, View Park and Leimert Park as well as some of the more economically challenged neighborhoods in the Western/Slauson area.
According to Eric Baumanm, chair of the Los Angeles County Democratic party and vice chair of the California Democratic party, among the key issues that need to be addressed district wide are providing residents with a quality education and preparing them for the future; quality healthcare; public safety and insuring that everybody sees a future for themselves.
In certain parts of the district, Bauman said he is also concerned about environmental justice.
Because of the diverse nature of the district, Bauman beleives that the person who can best represent the 54th AD is someone who can relate to many different kinds of people; someone strong at coalition building.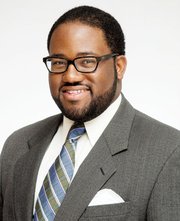 Bauman adds that the individual must also get to know the community and really dig in and make changes that will not only help the community flourish, but help people flourish as well.
Our Weekly sent each of the candidates a survey to gauge their thoughts on the 54th Assembly District; following find their answers.
Sebastian Ridley-Thomas, grew up in a household where "participatory politics and civic engagement" was a matter of course. His mother is Avis Ridley-Thomas, a pioneer in conflict resolution, and his father, Mark Ridley-Thomas, is chairman of the Los Angeles County Boad of Supervisors.
A graduate of Morehouse College, this race is his first foray into running for political office, but he is not a neophyte in the arena. He has served as policy director for Curren Price when he served in the State Assembly and advised him on economic development, transportation, housing, public safety and local government.
Ridley-Thomas was also a legsilative consultant to the California Senate Select Committee on Procurement; and was Price's chief liaison to South Los Angeles' faith-based organziatons and clergy.
He also worked with the Washington, D.C.-based Children's Defense Fund, and his duties included helping to expand the organization's freedom schools.