George Zimmerman posts $9,000 bail in domestic violence case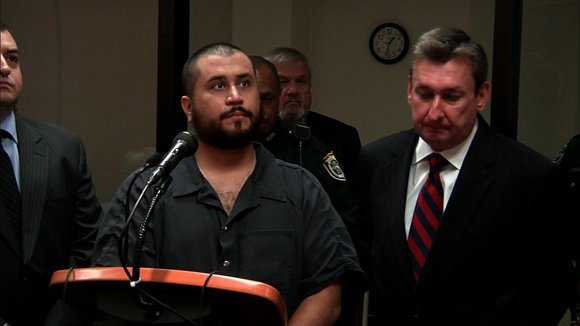 Frank Taaffe told HLN's "Nancy Grace" that he paid the bond for his friend.
Zimmerman claims dispute arose over alleged pregnancy
Zimmerman was arrested Monday afternoon at Scheibe's Apopka home after she called 911, said Dennis Lemma, chief deputy with the Seminole County Sheriff's Office.
Zimmerman told police the argument erupted after he tried to leave because Scheibe was pregnant and wanted to raise their child by herself, though police say Scheibe disputed the account.
"She told me it was better if we co-parented and she raised the child on her own," Zimmerman said to a 911 dispatcher in a separate call. "I said, 'Are you sure this is what you want to do?' She said, 'Yes.'"
Zimmerman continued, "As soon as I started packing up my stuff to leave, she just completely changed." Asked to elaborate, Zimmerman said he wanted to leave amicably, but Scheibe "just started smashing stuff, taking stuff that belonged to me and throwing it outside, throwing it out of her room, throwing it all over the place.
"I guess she thought I was going to argue with her, but she's pregnant. I'm not going to put her through that type of stress."
In a question-and-answer session after Monday's news conference, Lemma told reporters, "At this time, the victim has disclosed to us that she is not pregnant."
Differing 911 calls
According to a police report about the incident, Scheibe said that after an argument, Zimmerman broke a table with a shotgun and then pointed it at her "for a minute."
Scheibe called 911 at 12:30 p.m. ET, Lemma said.
On a 911 call recording released by police, a woman can be heard telling authorities: "He's inside my house breaking all my (things) because I asked him to leave."
The woman then says to someone at the house, "I'm doing this again? You just broke my glass table. You just broke my sunglasses and you put your gun in my freaking face and told me to get the (expletive) out."
A man is heard telling her to calm down, but then she tells the dispatcher that the man just pushed her out of the house and locked the door.
In his 911 call, Zimmerman says that his girlfriend was, "for lack of a better term, going crazy on me" and throwing his things out. He says the woman is outside with police.
Asked why he is calling, Zimmerman says, "I just want everyone to know the truth."
He says he never pulled a firearm and that it is in a bag, locked. He says she was the one who broke the table.
When deputies arrived at the house, Scheibe gave them a key. When they pushed open the door — which was blocked by several small pieces of furniture—they found Zimmerman, who was sitting and unarmed, Lemma said. He was passive and cooperative, Lemma said.
The sheriff's office was seeking a search warrant to look for two guns deputies believed were inside the home, he said. According to the police report, Zimmerman had locked up the guns before police arrived.