Gunman opens fire in Paris newspaper lobby
Newspaper employee shot twice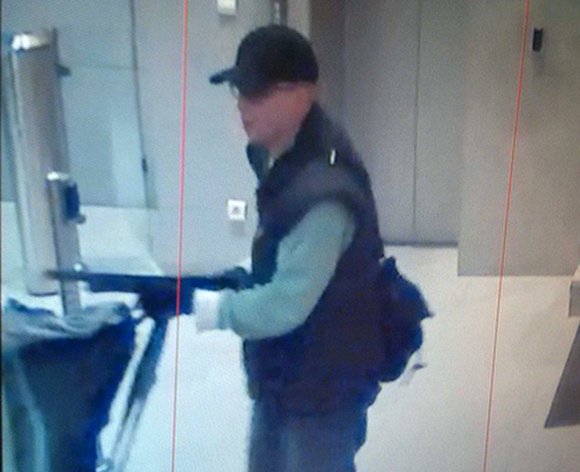 PARIS, France — A man armed with a shotgun walked into the lobby of the French daily Liberation in Paris and fired twice Monday, the newspaper said.
A 27-year-old photographer's assistant was shot twice near the heart and was in intensive care, Paris prosecutor Francois Molins said.
Paris police had no information about the man's motive. He fled after the attack.
Prosecutors released three photographs and have issued a plea for witnesses who may have seen a man "making death threats while carrying a gun", according to a statement.
The suspect is described as a 5-foot-6-inche to 5-foot-8-inch tall man with a "European appearance" and with graying hair.
He was estimated to be between 35 and 45 years old and was wearing a khaki parka or a green pullover, a dark sleeveless vest, green and white basketball shoes, two bags and a dark cap.
The suspect apparently also opened fire in front of Societe Generale towers in Paris, the international bank said on Twitter.
There were no injuries, and police are investigating, the bank said.
Another man told police he was carjacked in the neighborhood of La Defense. The bank's towers are in the same neighborhood.
The man said he dropped the assailant off near the Champs-Elysee, the city's main street, according to police.
On Friday, a gunman broke into BFMTV, threatening journalists before fleeing.
The description of the man at Liberation is similar to that of the man at BFMTV, and the gun used was of similar caliber, police say. But it has not been established that it was the same man.
The suspect has not yet been identified, and no claims of responsibility have been made, Judicial Police Director Christian Flaesch said.
'A fundamental freedom critically injured'
Police are being sent to the offices of all national French newspapers, Interior Minister Manuel Valls announced Monday.
"We will do everything in our power to catch this individual," Valls said. "In our country, we cannot accept those who attack our fundamental rights, a right that women and men have always fought for all over the world. Lives have been lost over this right."
There had been no recent threats against the paper, and security was not high, managing editor Fabrice Rousselot told CNN affiliate BFMTV.
"Liberation is not and never has been a bunker. Liberation is a place of freedom," publisher Nicolas Demorand said. "We do not want to work behind bulletproof glass. We do not want to work behind iron curtains. ...
"We don't know the motivation, whether this was an act by a madman, but we can see today that a fundamental freedom has been critically injured."
CNN's Josh Levs contributed to this report.
Saskya Vandoorne and Alanna Petroff | CNN