Foster parents Dorian Lee Harper, Wanda Sue Larson face child abuse charges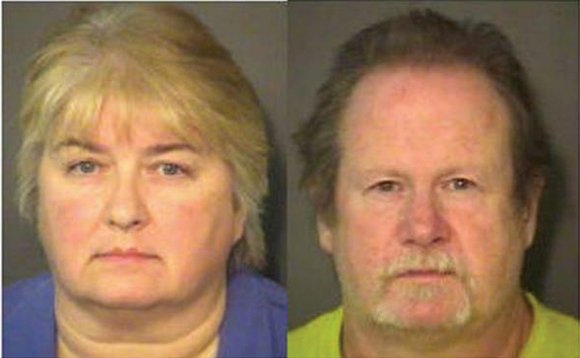 A North Carolina deputy responding to a complaint about an animal made a shocking discovery Friday at the residence next door -- a child found shivering and handcuffed to a front porch with a dead chicken around his neck.
The deputy saw an 11-year-old child secured to the front porch at the ankle, by what appeared to be a pair of handcuffs, according to the Union County Sheriff's Office. Moments later, authorities said Dorian Lee Harper, 57, appeared on the porch and asked the deputy why he was there.
Another child inside the house opened the front door, letting out several large dogs. The dogs chased the deputy back to his patrol car.
When additional officers arrived at the house, south of Monroe, authorities searched the residence. Authorities removed five children, ages 8, 9, 11, 13 and 14, from the home.
Harper and Wanda Sue Larson, both 57, face charges of intentional child abuse inflicting serious injury, false imprisonment and cruelty to animals, officials said. Larson also faces charges of willful failure to discharge her duty as a public official.
Harper lived at the residence with Larson, a supervisor with Union County Department of Social Services, according to a sheriff's news release. Both had adopted four of the children and were serving as foster parents for the 11-year-old found on the porch.
When asked about Larson's arrest, Brett Vines, public information officer for Union County, told HLN "We can't comment as the incident is under investigation."
The boy on the porch appears to be the only one of the children mistreated, Union County Sheriff Eddie Cathey told CNN. "The five children all will undergo medical evaluations to determine if they were mistreated."
"The 11-year-old, we believe, had been handcuffed there in the morning time," Cathey said. "We learned that this particular child is handcuffed pretty regularly. It's unclear if the other children received similar discipline."
All of the children were found to be in good condition, said sheriff's Capt. Ronnie Whitaker. Two are siblings. The boy on the porch is not related to the others, officials said.
All of the children are home schooled, authorities said.
Cathey said Harper and Larson claim to be married, but that has not been confirmed.
The house sits on 30 acres, with animals "running around," including horses, chickens, dogs and llamas. About 95% of the animals appeared to be healthy and well-fed, according to the sheriff.
Authorities have no previous records of calls to the home, according to Whitaker.
"We're very familiar with [Wanda Sue Larson]," said Cathey. "My agents have worked with her often. She handles a lot of the social services cases out here throughout all of Union County. We're shocked."
HLN, the sister network of CNN, has been unable to determine whether Larson and Harper have legal representation.
The sheriff's office said Larson was not present at the time of the incident, but she is accused of being complicit in the ongoing mistreatment of the child.
Neighbor Tommy Bigham talked about the couple with HLN affiliate WBTV.
"Nobody goes in there. Nobody comes out there except them. That's the only ones that ever goes in and out that road," he told WBTV.
Harper is being held under a $500,000 secured bond. Larson's bond is set at $525,000. Both are in the Union County Jail and are expected to appear in court on Monday morning.
The children are now in custody of a Social Services agency outside of Union County.
Harper is a registered nurse at CMC-Union in Monroe, according to spokeswoman Teri Mitchell Porter. He has been placed on administrative leave, she said.