Leawood couple seeks $7 million after SWAT-raid; Dwayne Bowe faces suspension; Actress charged with stalking Alec Baldwin
Arizona
A recent CBS News report shows a dramatic rise in the number of school shootings in the past 13 years. That report also found that in three out of four school shootings, the suspect walked right in through the main entrance. CBS 5 Investigates found many schools are responding in a way that could be putting children in danger. In some Arizona school districts, officials are putting up fencing and gates without permits and locking up exit routes that may be critical in an emergency. "It's probably been around the last six months that we caught up with the process of them actually locking the gates with chains and locks. People need to be able to get away," said Arizona State Fire Marshal Bob Barger, who adds that too many schools are locking bad guys out and, in the process, locking children in. Doors being secured with heavy chains and padlocks are clear violations of the state's fire code.
Hawaii
Authorities will continue searching today for an experienced surfer who is missing after wiping out on a 20-foot wave off Oahu's North Shore, according to a CNN affiliate. The surfer, who Honolulu police say is Kirk Passmore, 32, a business owner and bartender, was last seen late Wednesday morning at a surfing spot known as Alligator Rock in Haleiwa, KHNL reported. Witnesses told the station that the experienced big-wave surfer fell off his board on the 20-foot swell and was hit by another wave. His partially damaged surfboard was found down the beach. "He was seen swimming down with his feet up above the surface, and we think he broke his eardrum because what happens when you break your eardrum is you have complete loss of balance and you have vertigo," said Jamie Sterling, a surfer who saw Passmore wipe out. Coast Guard crews, Ocean Safety lifeguards, the Honolulu Fire Department and fellow surfers searched for Passmore on Wednesday to no avail. The Coast Guard continued searching through the night, while other rescuers suspended their search until sunrise.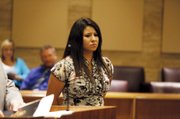 Illinois
Attorneys in the case of a young woman accused of running over and killing a 5-year-old while intoxicated from huffing fumes have been given more time to develop their arguments about the constitutionality of her charges. A hearing had been scheduled for Tuesday, but Judge James Booras continued the proceedings. He also delayed until Feb. 7 the start of Carly Rousso's trial, which had been scheduled to begin this month. Nineteen-year-old Rousso is charged with four counts of aggravated driving under the influence of intoxicating compounds and two counts of reckless homicide in connection with the death of 5-year-old Jaclyn Santos-Sacramento. The girl's mother and one of her brothers were also severely injured in the crash. They were trying to cross a road on Sept. 3, 2012, when Rousso's car allegedly struck them. Rousso has pleaded not guilty to all the charges, and was released from custody on $500,000 bond.
Kansas
A Leawood couple is seeking $7 million in damages for what they said was a SWAT-style raid intended to find marijuana plants that instead turned up nothing. The former CIA workers and their two young children on Tuesday sued in federal court in Kansas City. The lawsuit was filed against the Johnson County commissioners, Johnson County Sheriff Frank Denning and various deputies involved in the 2012 raid. Citing the pending lawsuit, Johnson County officials said they could not comment. Adlynn and Robert Harte say they and their then 13-year-old son and 7-year-old daughter were mistakenly detained at gunpoint for hours as deputies in SWAT gear turned their Leawood home upside-down. They said their trash was searched several times in the days leading up to the raid and that deputies made false assumptions and failed to do proper legwork before deciding that the family had a major marijuana-growing operation inside their basement.