Get rewarded for saving
Businesses encouraged to sign up for 'Whac-A-Watt, Save-A-Lot' challenge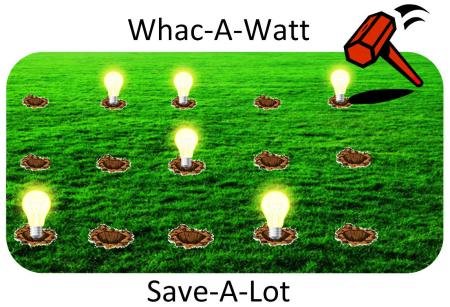 The city of Santa Clarita and the Community Energy Partnership invites local businesses with tracked energy savings to sign up for the Whac-A-Watt, Save-A-Lot Business Energy Challenge by Nov. 30.
Eligible businesses must have tracked their energy use in the ENERGY STAR Portfolio Manager for one year before energy improvements and one year after to demonstrate savings.
The challenge will be broken down into two categories, including small-to-medium sized businesses with two to 100 employees, and large businesses with more than 100 employees. One business from each category will be recognized for the largest percentage of energy savings and the most improved energy savings, and credit can be received for both the electricity and natural gas saved. The winning businesses will be recognized by the Santa Clarita City Council at one of the bi-monthly council meetings as well as on the city's green website GreenSantaClarita.com.
"The city is dedicated to providing simple yet effective programs that help preserve the environment in both big and small ways. The Whac-A-Watt, Save-A-Lot Business Energy Challenge is just one of many efforts to encourage the business community to go green," commented Mayor Bob Kellar.
To sign up, please complete the following steps by Nov. 30:
• Identify the month and year when your business completed the energy improvement measure(s) and confirm that your business has ENERGY STAR Portfolio Manager data from the previous year.
• Visit GreenSantaClarita.com for directions on how to generate two ENERGY STAR Portfolio Manager Statement of Energy Performance Reports, which will be used to evaluate energy savings.
• Follow the directions and either save digital copies or print out hard copies of the report.
• Complete the online entry form.
• Email the reports to Environmental Services Program Coordinator Heather Merenda at hmerenda@santa-clarita.com with the subject line reading: "Submission-Energy Challenge" or mail the reports to:
City of Santa Clarita, Attn: Heather Merenda, 23920 Valencia Blvd., Suite 225
Santa Clarita, CA 91355
This program is funded by California utility customers and administered by Southern California Gas Company and Southern California Edison as well as supported by the California Public Utilities Commission.
For more information on the Whac-A-Watt, Save-A-Lot Business Energy Challenge or to sign up, visit GreenSantaClarita.com or contact the Environmental Services Division at (661) 286-4098.