Fred Thompson makes history in Palmdale
Becomes first Black council member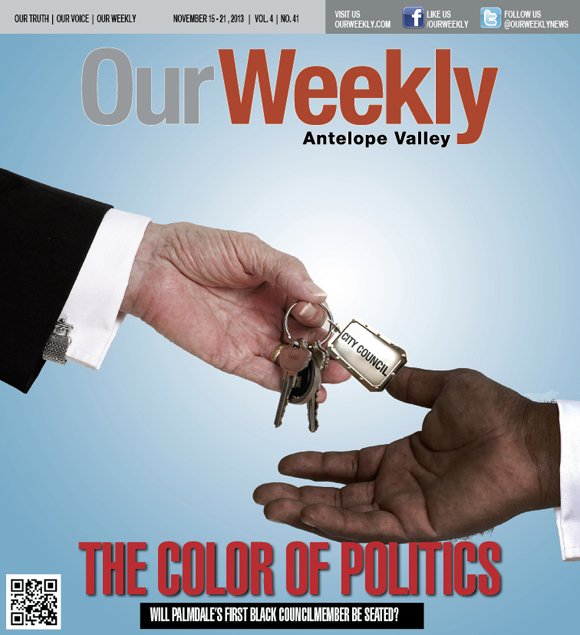 Editor's Note: In the Nov. 8 edition of Our Weekly, we indicated that Fred Thompson finished second in the voting but inadvertantly failed to note that he actually won election to the City Council.
Fred Thompson, a former dean and member of the board of directors at Antelope Valley College, last week became the first African American to win a seat on the Palmdale city council. The retired college administrator won one of two contested council seats on the ballot, but when he will take the oath office is unclear. An appellate court will decide no later than mid-January 2014, if the election was legitimate.
Right now, no one really knows what effect Thompson's victory will have on a lawsuit currently pending in the appellate court.
Additionally, because Juan Carillo, a city planner in Palmdale, and Joyce Ricks, a former grade school teacher, each won their respective races for the Palmdale School District, the lawsuit's claim that the "at-large" voting system is unfair to minority candidates may prove unfounded. Carillo and Ricks are minorities, as is Doretta Thompson who was elected to the Eastside Union School District Board. In addition, R. Michael Dutton was elected to the Antelope Valley Joint Union High School District Board of Trustees, while Jannie P. Dutton and Manuel J. Magana each won election to the Keppel Union School District. Until court certification, current city hall officials will remain in place.
A lawsuit was filed in February requesting the election be halted because of the at-large system, which the suit alleges prevents minorities in the city from being able to elect the candidate of their choice. Superior Court Judge Mark Mooney granted the request of plaintiff's attorneys Kevin Shenkman of Malibu and Lancaster Mayor R. Rex Parris, who repbad break Palmdale resident Juan Jauregui. But the 2nd District Court of Appeals later allowed the election to proceed, stipulating that it would determine after the votes were counted whether to certify the results.
City officials immediately fought back—filing a motion for injunctive relief—which was granted provided the results be returned to the court for certification. In court documents, attorneys representing Palmdale argued that because African Americans and Latinos are a majority of registered voters in the city, they are "in a position, numerically" to elect the mayor and city council members. Palmdale is expected to appeal the case once the trial judge completes his work.
Also, Shenkman and Parris have cited the trial judge's "clarification" of the injunction in contending that the ballots should not have been counted. "That violates Judge Mooney's order," said plaintiff's spokesman Eric Rose.
"It's an illegal election," Shenkman told the Los Angeles Times last week, "and once it's decided to be an illegal election, it can't be certified by another court. What we requested is a special election in June to coincide with the state primary."

Palmdale city attorney William Ditzhazy countered Shenkman's argument last week, stating that the city will contest the decision, if the judge rules for the plaintiff. "We believe our residents—all of them—are best served by an election process in which the voters have full say over all the candidates, rather than in a district situation where voters have their say over one candidate, while four other council members have power over them." Ditzhazy continued: "I have been asked if there is a racist motive behind plaintiffs' efforts (to prevent an African American from being seated on our council. I don't think so. I think they need to prevent Mr. Thompson from being seated on the council, because it undermines their pretext for bringing this suit. This case isn't about bringing diversity to the city council—it's about plaintiff' attorneys leveraging a poorly drafted statute for political power and easy money. Everyone in this state should be paying attention to what is going on here, because eventually it's coming to your town, and it's going to cost the tax payer plenty."