Memorial held for fallen TSA agent
Gerardo Hernandez remembered at L.A. Sports Arena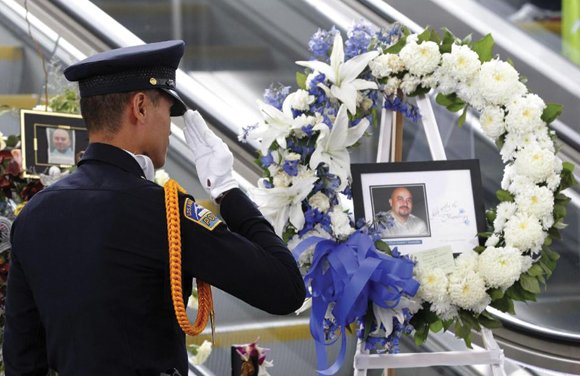 Local and national dignitaries gathered at Los Angeles Memorial Sports Arena Tuesday to pay tribute to Gerardo Hernandez, the Transportation Security Administration (TSA) officer who was gunned down at LAX, remembering him as a loving family man who was always smiling.
Hernandez, a 39-year-old father of two from Porter Ranch, died Nov. 1 when he was shot multiple times by a gunman in Terminal 3 at Los Angeles International Airport. He was the first TSA officer to die in the line of duty.
"Since the time he joined the TSA family here in Los Angeles, he was always smiling," said Darby LaJoye, TSA federal security director at LAX. "He performed difficult duties with integrity and focus."
LaJoye said Hernandez "always had a smile or a smirk on his face. He would interact with anyone and everyone ... telling jokes and always speaking positive of his family."
"Forever will the memory of Officer Hernandez live in our hearts," he said. "... We will grieve, we will mourn, we will celebrate his life. We will never forget our fallen comrade."
LaJoye read a letter from Hernandez's wife, Ana Machuca, who called her husband "a great man who always showed great love for our family."
"Gerardo would have been 40 last weekend," she wrote. "I am devastated. We are all heartbroken and will miss him dearly."
Hernandez is also survived by a 14-year-old son and 11-year-old daughter.
The TSA agent was working at a lower-level passenger check-in station, when a gunman—believed to be 23-year-old Sun Valley resident Paul Anthony Ciancia—pulled a semi-automatic weapon out of a duffel bag and began shooting. Federal officials said Ciancia was specifically targeting TSA agents.
Federal authorities said Ciancia went up some stairs after shooting Hernandez, but went back downstairs, when he realized Hernandez was still alive and shot him again. The suspect continued shooting his way through the airport until he was shot four times by police, including at least once in the head. Several other people were wounded in the attack.
Ciancia was taken to Ronald Reagan UCLA Medical Center in critical condition. His condition has since been upgraded to fair.
At Tuesday's memorial, which was punctuated by musical tributes and attended by local and national dignitaries including U.S. Attorney General Eric Holder and TSA Administrator John Pistole, Mayor Eric Garcetti reached out to Hernandez's family.
"We are your family," the mayor said. "We love you, and Gerardo will always be in our hearts. God bless you."
Garcetti said Hernandez's story mirrored that of many other Los Angeles residents, "coming here from another country or another state, another place, to call this home. And yet Gerardo's story was unlike any other as well."
Pistole added that "just 11 days ago a senseless act of violence ended his life much to soon."
"We mourn him throughout our ranks and throughout the nation," he said.
On Wednesday, the U.S. Honor Flag—which once flew over the site of the Sept. 11, 2001, terrorist attacks in New York City—was flown to LAX as part of a service in honor of Hernandez. The flag was carried in a motorcade around the airport's loop road. On Friday, TSA agents and other workers at airports across the country observed a moment of silence at 9:20 a.m., marking the one-week anniversary of the shooting.
The motive behind the shooting spree remains a mystery, although federal authorities said Ciancia was carrying a hand-written note saying he wanted to kill multiple TSA officers and made a reference to NWO, or "New World Order."
On Nov. 2, federal prosecutors filed a charge of murder of a federal official against Ciancia, along with a charge of commission of violence at an American airport.
Under federal law and policy, Justice Department officials in Washington, D.C., will evaluate the case to determine if they will seek life in federal prison without parole or the death penalty for Ciancia, if he is convicted.
The shooting forced a daylong closure of Terminal 3, and prompted an evacuation of other LAX terminals as police conducted an extensive search to ensure there were no other threats at the airport.
Airport officials said Tuesday that between 9:30 a.m. and midnight Friday, 1,550 flights and roughly 167,000 passengers were affected at LAX and across the country.