Who is Pfc. Clarence Merriott, and why was his Purple Heart for sale?
Matthew Carlson, 59, bought a Purple Heart for sale at a swap meet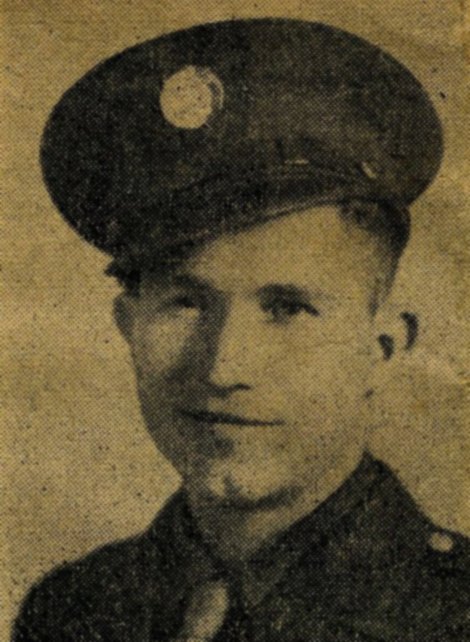 With a name and a date of death, an Internet search yielded a hit on a website honoring men of the 300th Engineer Combat Battalion during World War II.
Carlson and his son pieced together from the website that Merriott was one of 90 men killed when a landing ship—LST 523 — struck an underwater mine just off Utah Beach in Normandy, France.
But it was the other papers — a two-page letter dated April 21, 1944 — that offered the first tangible details about Merriott.
"Dearest Mother, Dad & Sis," it began, "Truly hope you all are doing OK. As for myself, I'm just fine."
Carlson read the letter, and then read it again.
It didn't offer details about the war or where the soldier was deployed. Rather it was the kind of letter that Carlson says he wrote to his own family while he was away at war.
"This was a young man trying to keep his family at peace," Carlson said.
In the letter, Merriott told his family how he missed the "warm, good spring sunshine." He asked after his mother, and he inquired whether his father had finished planting the corn crop.
It had been sent to an address in Stilwell, Oklahoma.
The Carlsons called a few people with the same last name in the area. Did they know where to find Merriott's family? The answer: No.
Maybe the people behind the website knew more about Merriott, Carlson thought.
A call across the miles
The message on Jan Ross and Brad Peters' voice mail was intriguing.
It was from Carlson's son, who relayed the story of his father's find at the swap meet, how he found Merriott's name on their website and how his father wanted to give the medal to the man's family.
Did they know anything more about the private first class? Would they speak with his father?
For nearly eight years, Ross and Peters had been detailing the stories of the men of the 300th Engineers on their website based in Erving, Massachusetts.
It's a journey that began with a single question by Ross: What did my father do with the 300th Engineers during the war?
Her father didn't talk about the war very much. When he died two decades earlier, Ross was left with more questions than answers about his service. So she and her husband, Peters, turned to the Internet.
Through the effort, she learned her father was a member of a four-man unit responsible for making potable water under combat conditions.
They had heard lots of stories over the years. But this story about the medal and Merriott was something different.
Peters called the elder Carlson.
No, Peters didn't know anything more about Merriott beyond what was on the website.
But maybe one of the surviving members of the 300th — as they are known — might know more. There was an upcoming gathering of the former combat engineers, Peters said.
Can you give it to the right people, Carlson asked?