Typhoon Haiyan: 3 days in, little relief for survivors of Philippines storm
Officials estimate as many as 10,000 people are dead across the Philippines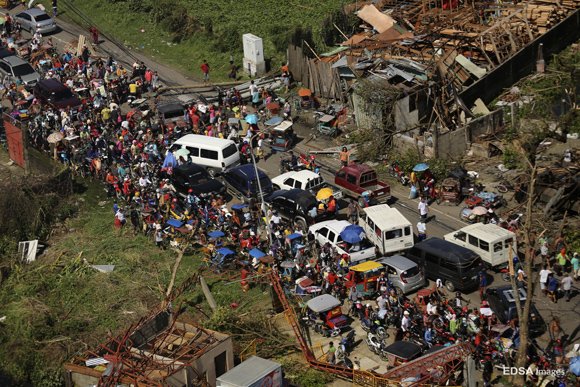 A similar challenge exists farther west, on the islands of Cebu and Panay, which also suffered direct hits from the typhoon.
The death toll, as reported by the Philippine Armed Forces Central Command, stood at 942 Monday night. But with so much about the storm's impact still unknown, a full accounting of its victims will take time.
"We can give you estimates right now, but none of it will be accurate." Gordon said.
U.S. Marines join relief efforts
As the United States, Pope Francis and Spain, among other nations, sent aid, Aquino declared a "state of national calamity," which allows more latitude in rescue and recovery operations and gives the government power to set the prices of basic goods.
Authorities are funneling aid on military planes to Tacloban's airport, which resumed limited commercial flights Monday. As aid workers, government officials and journalists came in, hundreds of residents waited in long lines hoping to get out.
The Marines who arrived Monday are the "forward edge" of a broader U.S. effort to aid the Philippines, Brig. Gen. Paul Kennedy said.
"We're working hand in hand with the Philippines, both with their armed forces and the national police, and we will help them in their need," he said.
The U.S. Agency for International Development was sending emergency shelter materials and basic hygiene supplies to aid 10,000 families as well as 55 metric tons of emergency rations sufficient to feed 20,000 children and 15,000 adults for up to five days.
Both shipments were expected to arrive this week, the agency said.
But with the airport 9 miles (15 kilometers) from the city center and many roads still clogged with debris, getting supplies to where they're most needed is proving difficult.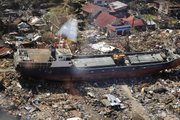 'They've lost everything'
The problems are the same in other stricken regions.
"Our priority is to address the urgent and immediate medical needs, of which we are sure there are many," Reyes said. "After that, really it's everything — shelter, water, food. They've lost everything."
"The main challenges right now are related to logistics," said Praveen Agrawal of the U.N.'s World Food Program, who returned to Manila from the affected areas Sunday. "Roads are blocked, airports are destroyed."
The need for food and water has led to increasingly desperate efforts. People have broken into grocery and department stores in Tacloban.
Local businessman Richard Young said he and others had formed a group to protect their businesses.
"We have our firearms, we will shoot within our property," he said.
Authorities have sent police and military reinforcements to try to bring the situation under control.
Another dire scene played out in the city's only functioning hospital over the weekend. Doctors couldn't admit any more wounded victims because there wasn't enough room. Some injured lay in the hospital's cramped hallways seeking treatment.
"We haven't anything left to help people with," one doctor said. "We have to get supplies in immediately."
Complicating the search efforts is the lack of electricity in many parts of the storm's path.