Typhoon Haiyan: 3 days in, little relief for survivors of Philippines storm
Officials estimate as many as 10,000 people are dead across the Philippines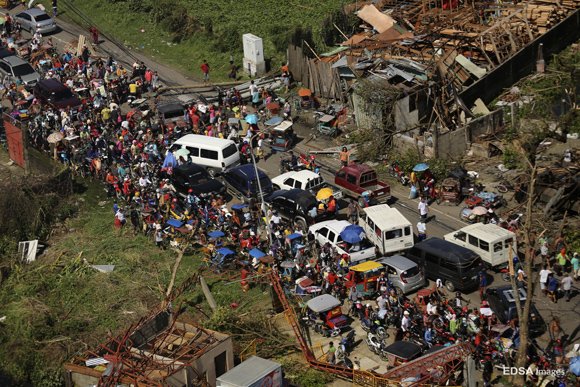 TACLOBAN, Philippines — You can see them everywhere. On the side of the road. Under what appears to be a bus shelter, a jaunty "I (heart) Tacloban" sign hanging overhead. Lined up on sidewalks.
Bodies — some crudely covered, others left exposed to the burning sun — added another hellish element to survival in Tacloban on Monday, three days after Super Typhoon Haiyan flattened countless buildings and claimed untold lives.
"There are too many people dead," said Richard Gordon, chairman of the Philippine Red Cross. "We have bodies in the water, bodies on the bridges, bodies on the side of the road."
Troops and aid organizations battled blocked roads and devastating damage Monday to deliver help to stranded Filipinos struggling to survive the powerful storm's aftermath, even as another tropical system moved in to deliver more unwanted rain.
Survivors rooted through the splintered wreckage of their homes searching for loved ones who may be buried beneath. Others scrambled to find food and water.
Officials worry as many as 10,000 could be dead.
"We've heard reports that people are walking around aimlessly, completely desperate," Dr. Natasha Reyes, the Philippines emergency coordinator for Doctors Without Borders, said in a piece posted on the group's website.
'Worse than hell'
Magina Fernandez, who was trying to get out of Tacloban at the city's crippled airport, described the situation there as "worse than hell."
"Get international help to come here now — not tomorrow, now," she said, directing some of her anger at Philippine President Benigno Aquino III, who toured some of the hardest-hit areas Sunday.
That aid began to flow in Monday. U.N. and U.S. civilian disaster assessment teams were on the scene, as were Japan-based U.S. Marines. The Marines were to outfit the shattered Tacloban airport with lights, radar and other gear to allow it to operate 24 hours a day.
Tacloban, a city of 200,000, was shattered by Haiyan. The storm's tremendous force brought a wall of water roaring off the Gulf of Leyte, leveling neighborhoods of wooden houses, flinging large ships ashore like toys.
"I have not spoken to anyone who has not lost someone, a relative close to them," said Tacloban Mayor Alfred Romualdez, who narrowly escaped death during the storm's fury. "We are looking for as many as we can."
Difficult to assess death toll
But Tacloban is far from the only devastated area. Authorities are trying to establish the level of destruction elsewhere along Haiyan's path.
"It's not just Tacloban; it's all the coastal areas" in that region, said Gordon of the Red Cross.
Fishing communities stretch for miles down the eastern coast of Leyte, the island where Gen. Douglas Macarthur led U.S. troops ashore in 1944 at the start of the long, bloody fight to retake the Philippines from the Japanese during World War II.
The other settlements along the coast are likely to have suffered a similar fate to Tacloban's.
Across the Gulf of Leyte lies Samar, where Haiyan made its first of six deadly landfalls on the Philippines on Friday. Government and aid officials say they are still trying to reach many affected communities on that island.