Mayor Garcetti Grand Marshal of San Fernando Valley Veterans Day Parade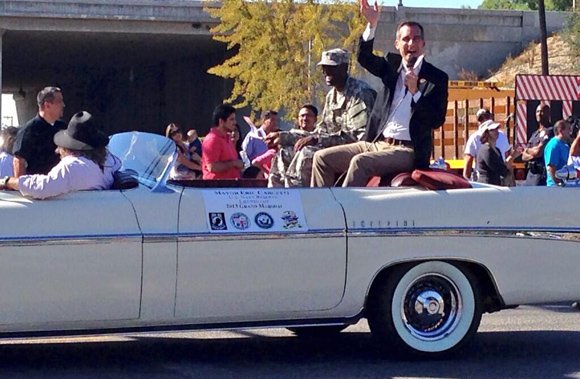 Veterans received a gift from City Council as their branch song was played.
Palmdale's annual Veterans Day Ceremony was held at 11 a.m. in front of the AV Wall on display at the Palmdale Amphitheater. Mayor Jim Ledford spoke, the Palmdale Madrigal Singers sung the national anthem, and wreaths were laid by the representatives of various veterans groups.
World War II Army Veteran Ernesto Gallegos delivered the keynote address at Norwalk's Veterans Day tribute at Norwalk City Hall.
Redondo Beach will hold its Veterans Day observance at Veterans Park beginning at 1 p.m. Retired Marine Corps Maj. Gen. Melvin G. Spiese will deliver the keynote address. Other speakers include Rep. Henry Waxman, D-Beverly Hills, and Assemblyman Al Muratsuchi, D-Torrance, chairman of the Assembly Veterans Committee.
A barbecue picnic organized by the Redondo Elks will follow.
The Midnight Mission's Veterans Day observance included the presentation of colors, a moment of silence, speakers included Rep. Xavier Becerra, D-Los Angeles, and the raising of the 9/11 flag.
Choctal, a Pasadena-based ice cream company, conducted a Veterans Day Ice Cream Social at the Union Rescue Mission.
Veterans Day has its roots in a proclamation issued by President Woodrow Wilson in November 1919, a year after World War I ended, designating Nov. 11 as Armistice Day. States soon starting declaring Nov. 11 a legal holiday. Congress made it a federal holiday in 1938, dedicated to the cause of world peace.
In 1954, following World War II and the Korean War, Congress, at the urging of veterans service organizations, passed a law renaming Armistice Day as Veterans Day. From 1971-1977, Veterans Day was held in late October. A 1975 law returned it to Nov. 11, beginning in 1978.
Steven Herbert | City News Service