Mayor Garcetti Grand Marshal of San Fernando Valley Veterans Day Parade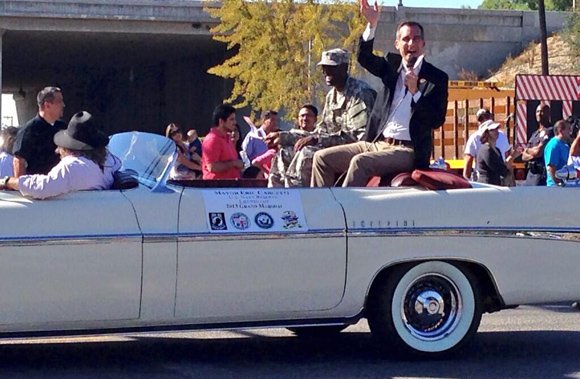 LOS ANGELES, Calif. — Mayor Eric Garcetti was the grand marshal of today's 10th annual San Fernando Valley Veterans Day Parade, the first elected official to have that honor.
Only veterans, active duty military members and reservists such as Garcetti, a lieutenant in the Naval Reserve, are allowed to ride in the parade. Elected officials with no connection to the military sit in the reviewing stand.
The parade was held at the corner of Laurel Canyon and San Fernando Mission boulevards in Mission Hills and ended 1.1 miles south at Richie Valens Park at Laurel Canyon and Paxton Street in Pacoima. A carnival in the park followed the parade.
The starting time, 11:11 a.m., was a nod to World War I ending on the 11th hour of the 11th day of the 11th month in 1918.
Garcetti said being the grand marshal is "a small way to express my appreciation for our veterans, but I have to admit as someone who grew up in the valley, it's nice to come back home at the front of this parade."
Garcetti told City News Service he hopes "that as people enjoy their day off, they keep the true meaning of this day in mind and take the time to say thank you to a veteran. We owe a huge debt of gratitude to those who put their lives on the line to protect us."
Los Angeles can expect 24,000 veterans returning from Afghanistan and Iraq, Garcetti said.
"Veterans Day reminds me of the work we have to do to make sure their sacrifices are honored and that they are respected with any support they need," Garcetti said.
Veterans Day observances are also planned for Forest Lawn Memorial Park-Hollywood Hills, Pasadena, El Monte, West Hollywood, Palmdale, Norwalk, Commerce and Skid Row.
Forest Lawn Memorial Park-Hollywood Hills also held its 54th annual Veterans Day program this morning. It included an aerial performance by the Golden Stars Skydiving Team, patriotic music, and a speech by retired Staff Sgt. Jeremiah Pauley from the Wounded Warrior Project.
A job and resource fair for veterans will follow from 12:30-4 p.m.
Pasadena's Veterans Day Ceremony was moved to in front of City Hall at Centennial Square. The ceremony had a special emphasis on honoring the nation's youngest and newest veterans from the wars in Afghanistan and Iraq.
Sheriff Lee Baca, Pasadena Mayor Bill Bogaard and Pasadena City College professor Harold Martin spoke at the event. The ceremony concluded with a flyover by the Condor Squadron of World War II-era planes.
A 9 a.m. ceremony was held at El Monte City Hall with 30 Army and Navy recruits being sworn into service, presentation of the colors by Veterans of Foreign Wars Post 10218 and American Legion Post 261 and music by the El Monte High School marching band.
Mayor Abbe Land was among the speakers at West Hollywood's annual Veterans Day Ceremony at the Sal Guarriello Veterans Memorial at the intersection of Holloway Drive and Santa Monica Boulevard.
The Marine Corps presented a static display of military vehicles at Commerce's annual Veterans Day Ceremony at Veterans Memorial Park. Veterans discussed their experiences in the military and why they chose to serve their country.