There are two sides to the Leimert Park Village Station story
Some are unhappy that the whole line is not underground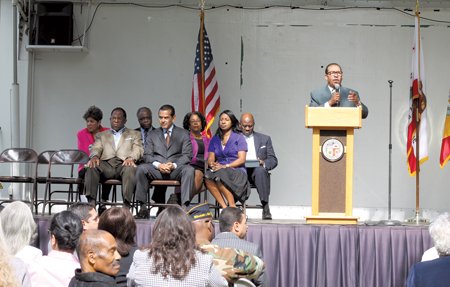 But Goodmon made it clear that the Coalition would continue to fight for an additional 11 blocks of the line to go underground to join the station—from 43rd Place to 54th Street. "We've got to get those other 11 blocks. "This is not an end. It's a critical moment. We celebrate this weekend, but we wake up on Tuesday and continue the struggle."
On the other hand, real estate broker Wesley Smith Jr. of Smith-Moore Estates at 5349 Crenshaw Blvd., says his personal preference was that the line be underground or elevated all the way—one or the other—and no part at street level. His fear, like those of many others, is that at street level it will ruin business along the boulevard.
He claims "constructive fraud was perpetuated by the MTA and many of its puppets" by having the line partly underground.
"Nobody in our immediate community of Park Mesa Heights is going to benefit at all," said Smith.
Ted Thomas, president of the Neighborhood Council of Park Mesa Heights, was happy about the Leimert station but agreed with Smith. "It needs to go underground all the way up Crenshaw, all the way to Aviation. They're going to kill business all the way down Crenshaw. What they have done is a Band-Aid approach," he said.
"If it hadn't been for Councilman Parks, they wouldn't have done what they did."
Lucretia Clark, owner of Regenaissance Hair Treatment Center at 3409 W. 54th St. said she originally wanted the line to go underground, but now she's 50-50 either way. If they go underground, "they could beautify the top," she said. But whether the line is at-grade or below-grade doesn't matter so much as whether or not the work closes off 54th Street.
"Well, I was hoping that it went underground, but if it goes on top I hope they don't close off 54th Street, because that's the main thoroughfare for our business. There's lots of traffic up and down that street. We get 80 percent of our customers from drive-by." (The present plan would apparently close 54th Street.)
According to Jose Ubaldo, MTA communications manager, parts of the line will be underground, parts at street level and parts (in Inglewood) aerial, or above ground. The undergrounding, as presently conceived, will apparently end at the Leimert Park Village Station. The entrance to the Leimert Park station will be at 43rd Place and will extend to Vernon Avenue.