AEG exec's memory strained about Michael Jackson's last days
Jackson lawyers argue e-mail shows the concert promoter hired Dr. Conrad Murray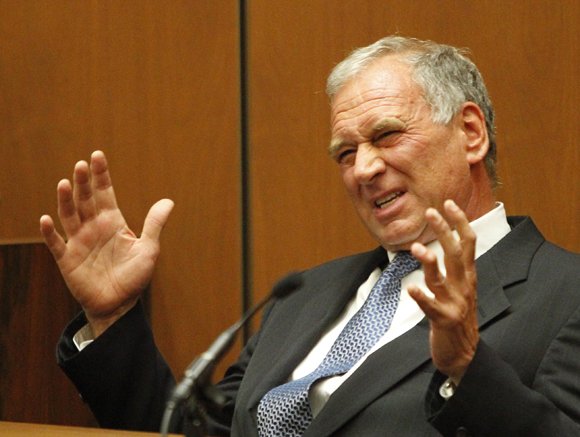 LOS ANGELES, Calif. — The phrase most spoken by AEG Live's co-CEO during his testimony in the Michael Jackson wrongful death trial was: "I don't recall."
Paul Gongaware, who was in charge of producing and promoting Jackson's ill-fated comeback concerts, testified this week that he couldn't remember sending key e-mails or approving budgets that included $150,000 a month for Dr. Conrad Murray.
Gongaware also denied thinking that Jackson's health was frail in the last days of his life, despite e-mails from others in the production suggesting the singer needed help.
Jackson's mother and three children are suing AEG Live, contending the concert promoter is liable in the pop icon's death because it negligently hired, retained or supervised Murray.
AEG's lawyers argue it was Jackson who chose, hired and supervised Murray — and their company only dealt with Murray because Jackson demanded they pay for him to be his "This Is It" tour doctor.
Murray was convicted of involuntary manslaughter in Jackson's drug overdose death and he is serving a prison sentence.
Gongaware seemed to dance around some questions like Jackson doing a "Moonwalk," including when he explained an e-mail to his boss' assistant in which he said he was having nightmares and cold sweats about the concerts.
It was not an admission that he was concerned about Jackson's ability to do the show, he said. "It was just playing around, joking," with AEG President Tim Leiweke's assistant, Carla Garcia, he testified.
"Carla is an absolute babe and I was just chatting her up," he said.
While that testimony drew laughter in the court, it was unclear how jurors and the female judge viewed it, because Gongaware also acknowledged his girlfriend worked at AEG.
Gongaware's repetition of "I don't recall" several dozen times under questioning by Jackson lawyer Brian Panish eventually drew laughs from jurors, including when Panish began answering for him with that phrase.
The 'smoking gun'
Panish questioned Gongaware about an e-mail Jackson's lawyers call the "smoking gun," which they argue shows AEG Live executives used Murray's fear of losing his lucrative job as Jackson's personal physician to pressure him to have Jackson ready for rehearsals despite his fragile health.
Show director Kenny Ortega e-mailed Gongaware 11 days before Jackson's death expressing concerns that Murray had kept Jackson from a rehearsal the day before. Ortega also raised his own concerns about Jackson's health. Gongaware testified on Wednesday that he thought Ortega was "over-reacting."
His e-mail reply to Ortega read: "We want to remind (Murray) that it is AEG, not MJ, who is paying his salary. We want to remind him what is expected of him." Gongaware, in a video deposition played in court on the first day of the trial, said he could not remember writing the e-mail.
Panish on Wednesday played for jurors a section of Gongaware's deposition, recorded in December, in which Jackson lawyer Kevin Boyle questioned him about what he meant when he wrote to Ortega, "We want to remind him that it is AEG, not MJ, who is paying his salary."