Mayoral candidates on Black jobs
Garcetti and Greuel faceoff
5/16/2013, 12:52 p.m.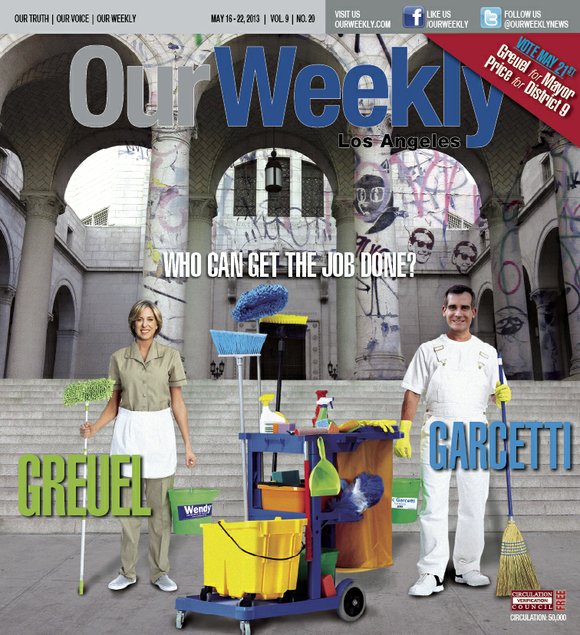 Wendy Greuel
How and what plans do you have to bring jobs and economic development to South Los Angeles?
I have been fighting to create jobs and economic activity in South Los Angeles, keep neighborhoods safe, and increase access to healthcare and housing since my very first job working for Mayor Tom Bradley.
Mayor Bradley became my mentor and my inspiration to pursue a career in public service. He taught me the importance of empowering communities and the values I hold dear today: equality, justice, and expanding opportunity.
I have never stopped fighting for South Los Angeles. At DreamWorks Studios, I helped create job-training partnerships with churches in South L.A. And as city controller, I have worked to make sure minority-owned businesses get their fair shot at city contracts.
But South L.A. and the entire city continue to face significant challenges. Our unemployment rate is far too high, while we graduate too few of our students.
I have a plan to create jobs across the city and I have worked with Magic Johnson, who endorsed me, on a five-point plan for getting South L.A. residents back to work.
First, we'll focus on linking economic development with work-force training. We must invest in job-training programs and ensure we are partnering with our community colleges to prepare workers for the jobs of today.
Second, we'll look at development block-by-block, supporting the businesses that are already here. That means making sure L.A. businesses get the first crack at doing business with the city.
Third, we must improve our technology infrastructure. Every neighborhood should have the infrastructure to support innovative businesses, and innovation hubs throughout the city will help businesses expand to new areas like South L.A.
Fourth, we must reinvest Community Redevelopment Agency dollars in the community. The city is receiving tens of millions of dollars from the state from the dissolution of the Community Redevelopment Agency. These dollars ought to be devoted to communities like South L.A., where the economic stimulus is most needed.
Fifth, we will identify ways to increase neighborhood retail opportunities to create more jobs. We need to create incentives to encourage national retailers to move into underserved communities. This is something that Magic has focused so much on, and I'll make it a priority for my administration.
As I run to be the next mayor of Los Angeles, I am humbled by the support I have received from influential leaders in this community like Congresswoman Maxine Waters, Supervisor Mark Ridley-Thomas and Magic Johnson, and the endorsement of faith and civic leaders like Bishop Charles E. Blake, Bishop Kenneth T. Ulmer, and the Rev. Chip Murray,
These leaders understand that Los Angeles voters have an important choice before them on May 21.
They can either choose the paralysis and failed leadership that has left us with record unemployment, budget deficits, and depleted core services—or they can choose to make progress.

This choice is critical for South Los Angeles, a region that cannot afford to be ignored or neglected.
How will you ensure that African Americans get a proportionate share of those jobs?
As your mayor, you have my commitment that I will always fight on your behalf.

Together we'll build a better city that dedicates itself to ensuring opportunity and equality for all.