Gun culture in South L.A.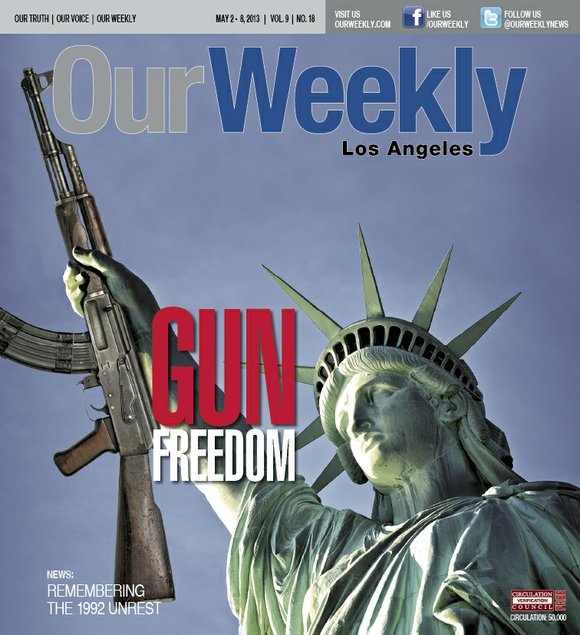 Doc [not his real name], a former gang member who customizes and restores cars, claims to have dealt in both the illegal and legal firearms trade. He started selling stolen guns in the early '70s while still in his teens; his facial hair allowed him to pass as an adult. His first successful gun theft took place in South Gate at a gun store called Weatherbys, he said.
"In the mid-'70s, the guns I stole were usually taken from me by older members of my set. We couldn't refer to them as OG's [old gangsters] back then because the gang was new. However, we used names like Number One, and those were the guys that would borrow your guns and not return them. They would usually say, 'Cuz, I had to throw that one away.'"
Doc says his last illegal gun deal was around 2004 when he almost got busted at an adult daycare in Leimert Park, but got away due to what he calls "divine intervention."
"The Best of Times Adult Day Health Care at 4350 Eleventh Avenue had been taken over by the Russian mob, and the entire facility was bugged (by the FBI) and being monitored," said Doc. "I would meet there outside and do transactions with this Russian guy who would sell me guns. I believe he was a friend or affiliate of the people who had forcibly taken over the daycare center. On that particular day, a young lady I knew walked outside and told me to leave. She was employed there and would see me out front, and that day she saved me.
"I later was told that during that time the Russian mobs had taken over quite a few adult daycares in South Los Angeles and were extorting money from the government by doing false patient billings, making millions."
The FBI would not comment on the 2004 investigation. However, a former nurse employed at the business during that time did confirm Doc's story of a investigation involving Medi-Cal fraud. She confirmed that there were listening devices in the place, and that the Russians were charging Medi-Cal fees for recreational therapy that never took place.
Doc has sold firearms to gangster rappers, professional athletes and gang-bangers, and is currently writing a book titled "Chopper."
The following are a few more insights from Doc:
• Although he has not been involved in gun sales since 2004, Doc said he owns a musket that was given to him by a relative. He keeps the musket as a reminder of how Africans were not allowed to own modern guns in the early '50s, only muskets that were used to prevent Africans from rebelling in regions of Africa.
• Doc considers African American gangs as being next to the bottom of the totem pole in weapons and firepower. The gangs with exceptional firepower are Russian and Armenian. He believes this is a result of those ethnicities having close ties to arm dealers. In second place are Germans and Arabs. Although these groups do not belong to a gang-banging culture, they have a passion for guns. The Germans are responsible for manufacturing two of the most iconic guns in the world—the German Luger and the Walther P-38.