Dirty money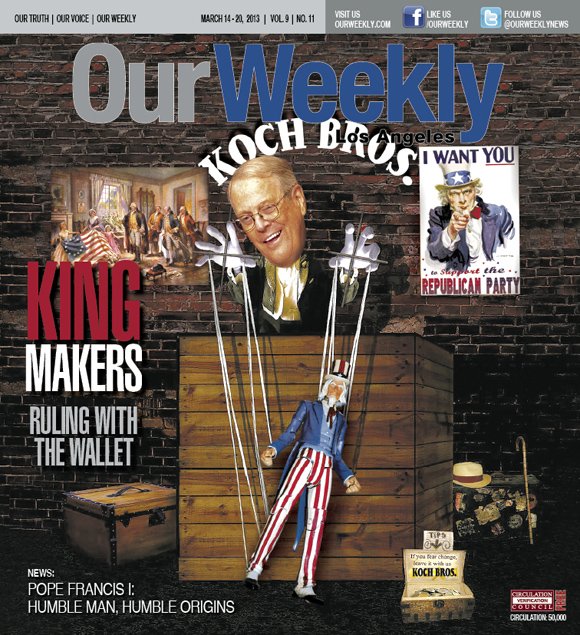 "This money is so dirty it had to be laundered five times—and it still stinks." —Gov. Jerry Brown
The story line seemed more appropriate for a screenplay hatched from the fertile minds of Hollywood's liberal brain trust—shadowy entities comprised of secret donors, hell-bent on warping the system to suit their right-wing agenda.
And yet, there it was, plastered above or just below the masthead of newspapers across the state: millions of dollars funneled through a maze of shell companies in order to help pass Proposition 32, an initiative meant to prevent unions from using employee wages for political causes. Republicans are traditionally oppositional to both labor management and its membership, and generally resist efforts to empower them. The bill failed to pass anyway.
Habitually resistant to tax increases, the Republicans had also earmarked this "dark money" to contest Proposition 30, a sales and income tax increase that would benefit educational funding, public safety, and address the state deficit. Proposition 30 did pass.
The charges ran against the precepts of American idealism—opportunity and equality.
One disgruntled observer of this electoral skullduggery was state Sen. Leland Yee, (D-San Francisco).
"Certainly Prop 30 and Prop 32 campaigns were affected, but fortunately the outcomes were not changed as a result," he said.
As a first generation immigrant, Yee was weaned on stories of totalitarian rule in his native China by his expatriate parents. With this background, the San Francisco resident grew up regarding the American electoral process as sacred. Questions remain about the extent to which these latest developments may have affected this routine.
"It is unclear how many other elections have been decided as a result of this unethical campaigning," Yee suggested.
To address this impropriety, Yee and his senatorial colleague, Ted Lieu (D-Torrance), have drafted and submitted Senate Bills 2 and 3, collectively known as the Sunshine in Campaigns Act.
Amid the hubbub of Barack Obama's re-election hysteria, this charge of monetary impropriety was overshadowed, but watchdog groups like the California Fair Political Practices Commission committed their resources into uncovering the sources, principals, and methods behind this curious arrangement of campaign subterfuge (at this writing, these allegations have yet to be completely substantiated).
The immediate precedent to this latest political brouhaha may be the emergence of the Super PACs (political action committees) in the wake of the landmark Citizens United versus Federal Election Commission Supreme Court case of 2010.
Citizens United, the nonprofit in question, attempted to air commercials during the Democratic primaries, promoting a documentary critical of then-presidential candidate Hillary Clinton, which raised a heated Supreme Court debate over the relative merits of freedom of the press, First Amendment rights, the definition of campaign finance, and whether such a documentary might be considered a political advertisement. Citizens United settled on the notion that campaign financing laws limiting corporation and union spending were tantamount to infringing upon their free speech.
Groups classified as "nonprofit" are prohibited from direct contributions to individual political candidates, but free to spend unlimited sums to convince the voting public to choose a particular contender (or measure). This, in turn, set the stage for the debacle that emerged in November 2012.