NAACP host 104th convention, T.D, Jakes gears up for MegaFest, Alphonso Ribeiro host Catch 21
African American issues for the week of June 24
California
Health and Human Services (HHS) Secretary Kathleen Sebelius announced that 1,433,787 California residents will benefit from $65,659,905 in rebates from insurance companies this summer, averaging $71 per family, thanks to the Affordable Care Act. Nationwide, 77.8 million consumers saved $3.4 billion up-front on their premiums because insurance companies operated more efficiently. Additionally, consumers nationwide will save $500 million in rebates, with 8.5 million enrollees due to receive an average rebate of around $100 per family. Created under the Affordable Care Act, the Medical Loss Ratio standard (also known as the "80/20 rule") requires insurers to spend at least 80 cents of every premium dollar on patient care and quality improvement. If they spend an excessive amount on profits and red tape, they owe rebates back for the difference no later than Aug. 1, 2013.
---
Idyllwild Jazz in the Pines returns to town Saturday, Aug. 17 and Sunday, Aug. 18 for the festival's 20th anniversary. This musical celebration continues to draw the young—and the young at heart—with an array of world-renowned artists and jazzy newcomers to the mile-high community in the San Jacinto Mountains, just two hours from Los Angeles. Artist highlights this season include two-time Grammy-Award winning vocalist and pianist Diane Schuur; the Harvey Mason Chameleon Project led by composer/percussionist Harvey Mason, featuring pianist/vocalist Patrice Rushen; Jazz vocalist Janis Mann; 21-year-old American Idol finalist Casey Abrams and the Southland's own, Euphoria Brass Band. Plus there will be performances from fan favorites such as P.S. Blues Band, Rocky Zharp & The Blues Crackers, Change Required, and many others. Proceeds from the event benefit the Idyllwild Arts Academy.
District of Columbia
First lady Michelle Obama, Epicurious, the Department of Education and the Department of Agriculture announced the winners of a nationwide recipe challenge to promote healthy lunches as part of the first lady's Let's Move! initiative. The Healthy Lunchtime Challenge & Kids' "State Dinner" will recognize 54 winners, representing all U.S. states, three territories and the District of Columbia, who will attend a Kids' "State Dinner" at the White House hosted by Mrs. Obama on July 9. The group will join the first lady for a healthy lunch, featuring a selection of the winning recipes, followed by a visit to the White House kitchen garden.
Florida
The NAACP will be host its 104th annual convention in Orlando from July 13-17. This year's convention theme is "We Shall Not Be Moved" and will focus on the modern-day attempts to roll back the progress of the civil rights era and efforts to combat them. This convention occurs in a year of critical civil rights anniversaries, including the 50th anniversary of the March on Washington for Jobs and Freedom, the 50th anniversary of the assassination of Medgar Evers, and the 150th anniversary of the Emancipation Proclamation. It also occurs on the heels of three Supreme Court decisions impacting civil rights and during the trial of Trayvon Martin's killer.
Illinois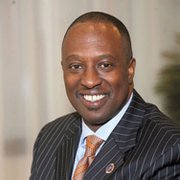 USBC President Ron Busby was center stage on behalf of America's Black businesses as Chicago hosted the 2013 Clinton Global Initiative America (CGI America) meeting. The U.S. Black Chambers Inc. participated in this year's CGI America meeting, an annual meeting focused on finding solutions that promote economic recovery in America. During the meeting, leaders in government, foundations, NGO (non-governmental organizations) and business sectors were invited to come together and develop solutions that improve access to education and skill development, increase employment, promote a stronger business environment and improve innovation.