Celebrating the stars and stripes
Fireworks: the sounds of independence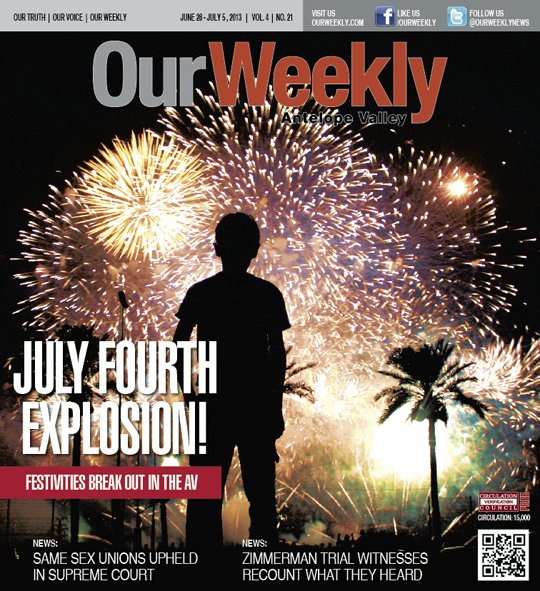 The Palmdale department of public safety and community relations suggests that once fireworks are purchased and used in an approved area, you follow these important safety tips:
•Always read directions and use common sense
•Have an adult present
•Use outdoors only (away from buildings, vehicles, dry grass and other flammable objects)
•Light one at a time, then move away quickly
•Keep others at a safe distance
•Never point or throw fireworks at another person
•Never alter or take apart fireworks
•Do not give fireworks to young children
•Have a bucket of water handy for emergencies and for dousing misfired and spent fireworks
Many nations celebrate an independence day, but Americans recognize the "Fourth of July" as the anniversary of the publication of the Declaration of Independence from Great Britain in 1776. Patriotic displays and family events are organized nationwide and many people display the American flag on their homes. The various parades, speeches, concerts and fireworks displays have deep roots in the American tradition of political freedom.
Few people will work on Independence Day (a federal holiday) when families celebrate with picnics and barbecues, watermelon or hot dog eating contests, softball games, three-legged races and tug-of-war challenges. After a day of fun and feasting, Americans traditionally attend a local fireworks show or will simply relax in front of the TV and enjoy one of the national fireworks spectaculars such as the famous New York Harbor show. Many politicians appear at public events to show their support for the history, heritage and people of the United States of America.
In 1775, citizens of New England began fighting the British for their independence. On July 2, 1776, the Congress secretly voted for independence from Great Britain, with Thomas Jefferson's Declaration of Independence published two days later in Philadelphia, Pa. The first reading was on July 8, 1776, and the initial signing—from Samuel Adams of Massachusetts to William Whipple of New Hampshire—took place on Aug. 2, 1776. The first description of how Independence Day should be celebrated was in a letter from John Adams to his wife, Abigail, on July 3, 1776:
"The second day of July, 1776, will be the most memorable epoch in the history of America. I am apt to believe that it will be celebrated by succeeding generations as the great anniversary festival. It ought to be commemorated as the day of deliverance, by solemn acts of devotion to God Almightly. It ought to solemnized with pomp and parade, with shows, games, sports, guns, bells, bonfires and illuminations, from one end of this continent to the other, from this time forward forever more."
Adams was off by two days, but from the outset Americans have celebrated independence on July 4, rather than the day independence was approved. The term "Independence Day" was not used until 1791.
Interestingly, Thomas Jefferson and John Adams, both signers of the Declaration of Independence and American presidents, died on July 4, 1826—exactly 50 years after adoption of the declaration. Also, the construction of the Erie Canal (1817) and the Washington Monument (1848) each began on July 4. The Statue of Liberty on Ellis Island in New York, the capital building in Washington, D.C., and the Golden Gate Bridge in San Francisco Bay are commonly associated with Independence Day and often serve as a backdrop to fireworks shows.
Bristol, R.I., plays host to the nation's oldest July 4 parade and celebration; it began in 1785. Seward, Neb., has held a celebration on the same town square since 1868, and, since 1916, Nathan's Hot Dog Eating Contest has been held at Coney Island in Brooklyn, N.Y. Beginning in 1970, the annual 10-kilometer Peachtree Road Race has been run in Atlanta, Ga., and the Boston Pops Orchestra has hosted a music and fireworks show annually since 1973.
One of the most famous Boston Pops concerts took place in 1976, upon the nation's bicentennial, when legendary conductor Arthur Fieldler came out of retirement to lead the crowd in "Stars and Stripes Forever." Also, on the National Mall in Washington, D.C., "A Capitol Fourth," a free concert, precedes the fireworks and attracts more than a million people annually. Neil Diamond will headline the event this year.