Zimmerman trial marked by contentious testimony between defense, key witness
Prosecution calls two neighborhood residents
Amanda Stone and Graham Winch | 6/27/2013, 8:10 p.m.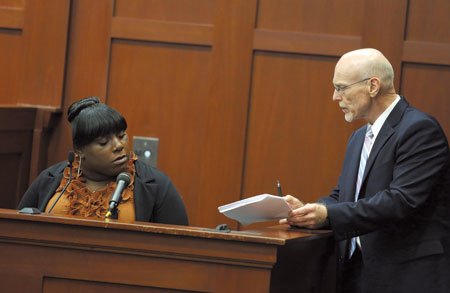 Another neighbor, Selma Mora, said she walked out her back door after hearing the gunshot, which she at first thought was a skateboard smacking the pavement.
"One of them was on the ground and the other one was on top in a position like a rider," said Mora, who testified in Spanish with the help of a court translator.
"Like riding a horse?" asked prosecutor John Guy.
"Yes," said Mora.
"With one leg on either side?" asked Guy.
"Yes," said Mora.
Mora said she asked the pair, "What's going on?" three times before the one on top told her to call police. She said he then got up and paced back and forth between the body and the trashcans with one hand on his waist and the other on his head.
"Well if I remember correctly, he was acting like, in a concerned manner. Well really in a way like, 'What just happened?' Confused," said Mora.
Defense attorney Mark O'Mara asked Mora to re-enact the moment she heard the gunshot. He even suggested she slip off her high heels, which she did.
Mora then re-enacted the scene for jurors, showing them how she was at the kitchen window, then slid out the partially open sliding glass doors and leaned around the column on her porch to look at the scene.
Mora was never able to identify the man on top or the man on bottom.
"Like I said from the beginning, it was so dark that what little light there was would not allow you to determine the details," she said.
Testimony in Zimmerman's trial will pick back up Friday morning at 9 a.m. ET.