LAX shows off its bright, shiny Tom Bradley International Terminal
The facility will open later this year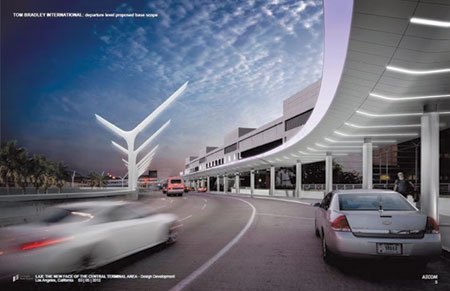 The 72-foot-tall "Time and Tower" is a moving digital display known as an integrated environmental media system (IEMS). First introduced at many Asian and European airports, it is an interactive media structure with changing clock faces.
"We will set the standard for airports worldwide," said Earnest Wooden, president and CEO the Los Angeles Tourism and Convention Board. He and Villaraigosa returned this month from Bejiing where they met with China President Xi Jinping who said tourism is the "lifeblood of communication" between nations. "Asian tourists aspire to come to Los Angeles," Wooden continued. "The press there is reporting more on tourism and the West Coast, particularly Los Angeles, which is rapidly becoming a destination point from Asia, the South Pacific and from South America." Wooden said one in three Chinese visitors to the United States will stop in Los Angeles.
The Great Hall features natural lighting that acknowledges the region's temperate climate, while an aluminum roof arches over the column-free structure; the views are impressive looking toward the adjacent terminals and hotels. From some locations, visitors can glimpse the downtown lights 12 miles to the north. The 18 new boarding gates/waiting areas (all WiFi ready with charging ports for electronic gadgets) are larger to accommodate the new-generation aircraft (the behemoth Airbus A380, and Boeing's 747-8 Intercontinental and its 787 Dreamliner), with eight of the Airbus gates featuring three levels for swift boarding and deplaning.
This year, passenger volume at LAX has increased 2.9 percent (63.6 million passengers) over last year, with domestic traffic up 3.1 percent to 46.5 million visitors. By year's end, the number of takeoffs and landings will surpass the 605,480 in 2012 figure. Clearly, though, LAX is preparing for the expected influx of visitors from China, Japan, South Korea and Taiwan because more money is flowing in those economies, more international markets have been opened and, increasingly, travel restrictions in China are being lifted as that nation invests more into Western commerce.
"The increase in passenger activity at LAX is attributable to airlines starting new international service; an improving Asia-Pacific regional economy, and a modest but perceptible strengthening of the Southern California economy," said Gina Marie Lindsey, executive director of Los Angeles World Airports, the body that operates LAX as well as Van Nuys and Ontario airports and a portion of Palmdale airport.
Officials boast the new TBIT will generate $98 million in annual sales. "The overall goal of the LAX Modernization Program is to dramatically improve the passenger experience with a building designed to capture the spirit of Los Angeles, while establishing new levels of passenger convenience and comfort. We are creating an airport that is safer and more secure, more energy efficient, and customer friendly with the types of services and amenities passengers demand today," said Lindsey.