Across Black America
Here's a look at individuals and issues making headlines throughout the country.
Louisiana
The 13-year-old boy told them he knew wrestling on TV was fake, sheriff's officials in a New Orleans suburb said. But, according to authorities in Jefferson Parish, his account of practicing "WWE"-style wrestling moves by punching, jumping on and slamming his 5-year-old half-sister to the bed was all too real, and fatal. Viloude Louis, 5, of Terrytown, was found unresponsive on a bathroom floor Sunday. She was taken to a hospital, where she was declared dead. The boy, whose name was not released by authorities because of his age, has been accused of second-degree murder; he remained in Rivarde Juvenile Detention Center on Wednesday. He "was smiling and appeared as though he took great pride in what he was doing," sheriff's Col. John Fortunato told CNN on Wednesday. "He showed no remorse while he was being interviewed in the presence of his mother." The half-siblings' mother left them at home when she went to the store Sunday, authorities said in a statement. An autopsy showed the girl's injuries included severe blunt force trauma to the body, multiple internal injuries, including broken ribs, lacerations to the liver, and internal bleeding.
Michigan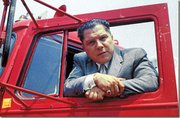 The search in a field near Detroit for ex-Teamsters boss Jimmy Hoffa ended Wednesday, and as with so many past attempts to find him, authorities walked away empty-handed, the FBI said. Authorities resumed digging in the field Wednesday morning, and a law enforcement source said the search was expanded to a site where a house once stood. John Anthony, a former FBI special agent involved in the original 1975 hunt for Hoffa, said the tip from alleged mobster Tony Zerilli, which prompted this week's renewed search, was the most credible he's heard since Hoffa's disappearance—though he still has his reservations, he said. Anthony said he's skeptical of Zerilli's claim that Hoffa was killed with a shovel because it wasn't the way of organized crime members in those days, who Anthony said would have preferred to shoot him in the head at close range. Asked if it was possible Zerilli was coming forward for monetary reasons, Anthony said, "I think there's no doubt about that. The man's broke. He has no money. That's why he came out in January with this story on the insistence of his wife."
Ohio
Prosecutors are seeking additional charges against the Cleveland man accused of keeping three women captive in his home for a decade, they told a judge. During an eight-minute hearing Wednesday, Ariel Castro, 52, kept his head down, often closing his eyes and speaking only to answer "yes" or "no" to the judge's questions. Prosecutor Timothy McGinty told Cuyahoga County Judge Michael Russo there is a possibility of more charges. Castro faces 329 counts, including one count of aggravated murder for allegedly causing the unlawful termination of a pregnancy. Castro's lawyers have filed a speedy-trial motion, which would mean the case would have to be tried by Aug. 4. However, that deadline could change if Castro's attorneys change course and ask for more time to prepare for the case. Russo set the next pretrial hearing for June 26 and told the prosecution and defense that any plea deal would need to be in writing. The defense has said in the past that it would be open to a plea deal if the death penalty was taken off the table.
Compiled By Juliana Norwood. CNN News Wire contributed to this report.