Across Black America
Here's a look at individuals and issues making headlines throughout the country.
Arizona
Serial killer Dale Hausner was found dead in his prison cell just after 12 p.m. Wednesday, the Arizona Department of Corrections said. Hausner, 40, died of unknown causes at the Eyman state prison in Florence, officials said. Staff and medical personnel tried unsuccessfully to give him CPR. He was transported to Florence Hospital at Anthem, where he was pronounced dead at 1:15 p.m. An investigation is being led by the department's Criminal Investigation Unit and the county medical examiner's office. On March 13, 2009, Dale Hausner was convicted of 80 crimes, including six counts of first-degree murder, attempted murder, aggravated assault, cruelty to animals and other charges. The series of crimes occurred in the Phoenix area in 2005 and 2006. He was sentenced to death in Maricopa County. He had been in state corrections since March 30, 2009.
Colorado
With firefighters close to extinguishing one of the most destructive fires in Colorado's history, investigators have "all but ruled out natural causes" in the blaze near Colorado Springs, a sheriff told reporters Thursday. Authorities still are determining what caused this month's 16,000-acre Black Forest Fire, which killed two people, destroyed more than 500 structures and prompted tens of thousands of people to flee. But investigators scouring a 24-square-foot area where the fire is thought to have started believe a natural cause is out of the question, El Paso County Sheriff Terry Maketa said. "I can't really go any further on that, but I can say we are pretty confident it was not, for instance, a lightning strike," he said. Maketa said earlier this week that the fire was being treated as a crime scene, meaning in part that investigators were preserving every piece of evidence that they could. But he said he wasn't ready to say whether a crime was committed.
Florida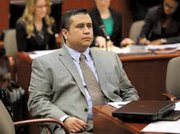 A jury of six women was chosen Thursday to hear the case of George Zimmerman, the Florida neighborhood watch volunteer accused of murder in the 2012 killing of unarmed teenager Trayvon Martin. Five of the six are White. They were chosen from among a pool of 500 potential jurors in the closely watched case against Zimmerman, who faces a second-degree murder charge in Martin's death. In addition, four alternates—two women, two men, all White—also will hear testimony. Zimmerman says he shot the 17-year-old Martin in self-defense in a scuffle in his Sanford neighborhood, but prosecutors accuse him of unjustly profiling and killing Martin. An initial decision by police not to pursue charges in the case led to the dismissal of the town's police chief and sparked fresh debates about race relations and gun laws in the United States.
Kentucky
A court has sentenced four relatives to years in prison for their roles in kidnapping and assaulting a gay man in Kentucky. The four were accused of luring Kevin Pennington into a truck in April 2011 and driving him up a deserted road into Kingdom Come State Park. They pulled him out of the car and assaulted him, and as they were looking for a tire iron to kill him, he escaped, according to prosecutors. David J. Jenkins, 39, was sentenced Wednesday to three decades in prison while his 22-year-old cousin, Anthony R. Jenkins, will be locked up for 17 years. A jury in London found the two men guilty of kidnapping and conspiracy, but acquitted both of federal hate- crime charges in a major blow to the Justice Department. Two female relatives who pleaded guilty to the scheme to kidnap and assault the man—as well as taking part in a hate crime—were also sentenced Wednesday. The women were the first to be convicted under the federal sexual orientation provision to the hate-crime law. Mable A. Jenkins, 20, got eight years and four months in prison, and Alexis L. Jenkins, also 20, was sentenced to eight years. The two women testified against their male relatives.