California poised to take on Common Core Standards
New education model would be consistent across 48 states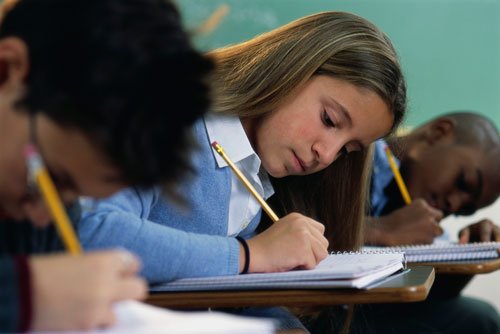 During the 2014-15 school year, California public school students in grades three to 11 will face a new set of standardized tests aligned to a new educational standard called the Common Core State Standards.
What is distinctive about these new standards is that they were jointly developed by educators and others in 48 states, and since 2010 have been adopted by 45 states, the District of Columbia, four territories and the Department of Defense Education Activity.
The goal of this state-led change was to establish a single set of clear educational standards for kindergarten through 12th grade that states would voluntarily adopt.
The initial focus on the Common Core State Standards has been to develop standardized English language arts and mathematics guidelines and curricula.
According to the Common Core website, www.ocrestandards.org, the standards are designed to ensure that students graduating from high school are prepared to enter credit-bearing courses in two- or four-year college programs or enter the work force.
"School officers from 48 states came together in a nonpartisan effort because they were concerned about the remediation (students were having to take) when they went to college," said Barbara Murchison, administrator of the Common Core Systems implementation office within the California Department of Education.
Murchison noted that this national concern prompted the states to act and, in the process, officials discovered that the same information needed to enter colleges was needed to efficiently and effectively move into the work world.
So ideally, if a child moves from one school to another, or from one state to another, they are supposed to learn the same things.
What is different about the Common Core is the increased emphasis on writing, utilizing critical thinking skills and problem solving.
In the Inglewood Unified School District, a transitional kindergarten with a "beefed up" curriculum has been created, according to Susan Ipponi, executive director of curriculum and instruction.
"Students will learn the alphabet earlier as well as sounds and develop a sense of oral and written language," explained Ipponi, adding for example that now by first grade, youngsters will be able to write complete sentences independently. This is a critical change from how youngsters were previously taught.
Another modification that is part of the Common Core Standards is a change in the way students will be tested. The goal is to switch to computerized testing for pupils at all levels.
Ipponi says this means students will begin computer instruction in kindergarten. She said they will learn concepts such as drop-down menus and how to refer from one document to another when writing. These skills should be mastered by third grade.
What is distinctive about this computerized testing is that it will be adaptive, says Murchison. She said this means the computer program will automatically and continuously adjust the difficulty level of the questions to the student's knowledge.
The Los Angeles Unified School District (LAUSD) Board of Education Tuesday voted 6-0, to enter into a contract with Apple Inc. to implement phase one of its Common Core Technology Project Plan (CCTPP).