Santa Monica College grads remember shooting victims
In a moment of silence, students prepare to move on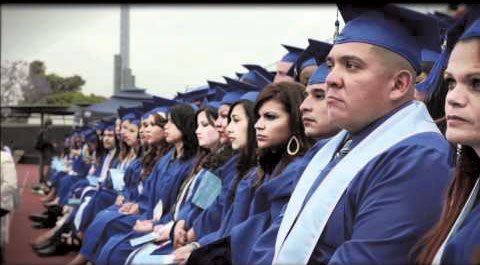 Santa Monica College graduates and their families, along with administrators and faculty, paused for a moment of silence during commencement ceremonies this week to remember the victims of a shooting rampage that ended in the college's library.
The momentary pause added a touch of grief to the otherwise joyous celebration at the Corsair football field.
"Our students and employees of Santa Monica College (SMC) have shown great courage and heroism during these difficult five days," SMC President Chui L. Tsang said at the beginning of the ceremony. "We have come together as a community to heal and to pay homage to the victims."
He also said the college was paying tribute "by drawing from this exercise to find strength in our sadness and to turn our anger into action for positive changes in this world. In memory of the victims of Friday's tragedy, let us please stand and observe a moment of silence."
The graduates and other attendees all stood and paused in remembrance before the ceremony continued.
Students returned to the campus amid heightened security Monday to continue taking final exams, while counselors were on hand to speak with anyone still distraught by Friday's violence, which claimed five lives, plus the gunman's.
A vigil was held Monday evening in front of the SMC campus library and on the football field.
USC President C.L. Max Nikias was among those speaking at the graduation ceremony. Nikias himself is no stranger to campus violence. His campus was the scene of a shooting that injured four people during a Halloween party in October, and two USC graduate students from China were shot and killed in a shooting outside the campus in April last year.
Monsignor Lloyd Torgerson from St. Monica's Church told the students and crowd that the ceremony should be a "a night of great joy, and no one should or could take that from you."
"But that joy . . . needs to touch the pain and the struggle and the loss of those victims in our city," he said. "And equally important, that pain and that loss needs to touch our joy, our celebration, our blessing tonight. And so my sisters and brothers, we stand together united in our grief, our fears and our inability to understand this reckless violence. As we strive to console each other we realize that we are one community. Perhaps the greatest legacy of all from these victims, from this great tragedy, is the unity that it has brought us."
Authorities have identified the gunman blamed for last week's violence as John Zawahri, who would have turned 24 Saturday. He was shot and killed by police in the campus library Friday.
The victims were identified as the gunman's father, Samir Zawahri, 55; his brother, Christopher Zawahri, 24; Santa Monica student Marcela Dia Franco, 26, who died Sunday; her father, Carlos Franco, 68; and Margarita Gomez, 68, who was seen regularly on campus collecting recyclables from trash cans.
Marcela Franco wanted to be a clinical psychologist. When her school, Cal State Dominguez Hills, couldn't provide the units she needed to graduate in the fall, she decided to take the courses at Santa Monica, where her father worked for 22 years as a groundskeeper. She and her father were leaving the campus after purchasing books for her classes when they were shot Friday.