A new (old) way to treat mental illness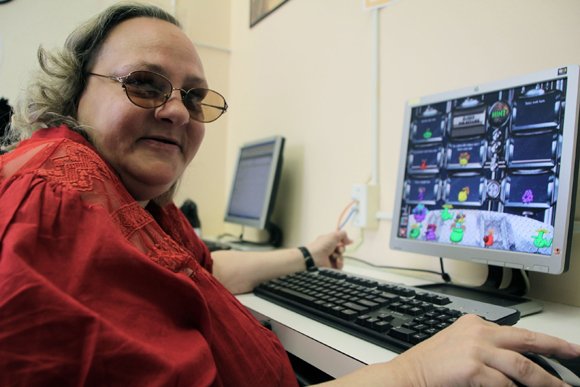 Nevertheless, even as some with mental illness who've benefited from cognitive remediation consider themselves recovered, experts add that recovery is a fluid notion. Also, cognitive remediation is not a guaranteed fix for everyone.
"Some would say recovery means you don't have an illness at all anymore," Medalia said. "Others will say it means managing your illness so that you live a gratifying life. ... 'Recovery' means people are able to negotiate functional everyday tasks that are meaningful to them after their cognitive functioning has gotten better."
Michele Ponist, 57, diagnosed with bipolar disorder and a client at The Bridge New York since 2007, has been doing cognitive remediation since 2011.
In one of two computer labs in the agency's offices on Manhattan's Upper West Side, Ponist recently showed her skill at computerized cognitive remediation drills with names such as "Brain Bender," "Fripple House" and "Factory Deluxe."
The drills approximate scavenger hunts and puzzles. They involve precise grouping of identical items such as "Fripple House's" animated characters and graphics outlining work flow. The drills' level of difficulty increases as clients get more and more correct answers.
Ponsit credits those drills and other cognitive remediation strategies for helping turn her life around. After more than a decade of not being employed, she spent a year in a $9-an-hour state-funded position as a peer counselor to clients in a separate residential program run by The Bridge.
Last month, funding for the program ran out. But Ponist is on target, social worker Labate said, to land her dream job of working in a corporate mailroom. Ponist has done similar work for The Bridge, which partners with companies willing to employ people with mental illness.
"I'm running into the higher-ups. I'm hobnobbing with them, giving them the mail and loving it," Ponist said. "I accomplished that here at The Bridge. I know I can do that outside The Bridge."
She added, "We discuss during group session what we're learning through cognitive remediation and how what we're learning applies to all areas of our daily lives.
"Maybe someone wants to date and doesn't know how to do that. Well, it takes planning. You've got to have clean clothes; you've got to wash those clothes; you'll need change for the laundromat. Cognitive remediation develops different skills, ones that involve memory, multitasking, organizing."
For a population angling to be perceived as normal as possible, given what they struggle with mentally, hope is key, experts said.
"The no-hope message is the old paradigm, " said Harvard's Dr. Dost Ongur, a psychiatrist and clinical director of the schizophrenia and bipolar disorder programs at McLean Hospital in Boston. "... There's a growing recognition of all the dynamic changes that take place in the brain, which shrinks in the early years of a psychotic disorder. What's also being discovered is that positive interventions reverse that brain shrinkage."
Indeed, cognitive remediation has been shown to reshape the brains of some mentally ill people positively, said Medalia, lead organizer of an annual conference on cognitive remediation in psychiatry in New York, hosted this month.
In 1998, many of her colleagues dismissed the merits of her first randomized controlled trial on the subject, said Medalia, who is also director of Columbia's Lieber Recovery and Rehabilitation Clinic for Psychotic Disorders.
"The prevailing attitude was that people with schizophrenia couldn't change ... (or) anyone with brain disease," she said
Just as those beliefs are being debunked, so, too, are many people's views on mental illness, which "has to be looked at like other chronic diseases," said Gagne, deputy project director at the Center for Social Innovation, a Boston organization that helps the mentally ill get access to appropriate social and health services.
"Some diabetics respond well to insulin, some don't," she said. "Some need to try out different medications. Some die very young of diabetes. The point, in terms of mental illness, is that it's no longer enough to merely be focused on reducing the obvious symptoms. There also has to be a lot of focus around a person's hopes and dreams and goals. It's about helping people see that this illness is something you have. It also is something that you can live well with."
Katti Gray | Special to CNN