A new (old) way to treat mental illness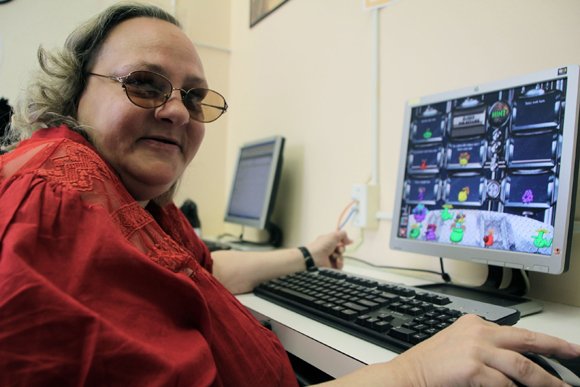 During a chance meeting five years ago at Boston's airport, Cheryl Gagne mentioned to a former psychiatrist of hers that she was bound for an Australian conference to deliver a keynote speech on mental illness recovery.
Confounded, the physician merely stared at Gagne. Probably, said Gagne, the doctor was recalling her former patient's years of being psychologically crippled by alternate diagnoses of borderline personality disorder and bipolar disorder, and a succession of hospitalizations.
"Oh, the look on her face. I was poised and well put together. She couldn't figure out whether I was having an episode or telling the truth," Gagne recalled.
Bucking widely held expectations that the mentally ill are destined to lifelong dysfunction, Gagne, 52, has been thriving for many years. Her path to what she and others call recovery has relied on cognitive remediation, a roughly 20-year-old therapy that, its adherents say, is gaining wider acceptance.
Premised on the notion that routines help many with mental illness develop order in their everyday lives and succeed in their pursuits, cognitive remediation grooms the brain in the steps needed to meet such goals.
Boston University neuropsychologist Susan McGurk gives an example of how it works: A severely mentally ill person undertakes three to four months of thrice-weekly sessions using special software with repetitive exercises.
Those exercises may be aimed at helping him or her develop productive day-to-day routines; be better organized; pay better attention to directions; problem-solve with greater speed, accuracy and regularity; and so forth.
"Maybe they start out learning a shopping list of six items," McGurk said. "And if they cannot remember all six items at first, we evaluate how they encode that list of things. What can they remember and not remember?"
Cognitive skills, she added, are not a gauge of a mentally ill person's intellectual ability. When memorization isn't sufficient, a mentally ill client is coached on writing down information he or she doesn't readily retain.
"Trying to remember some instruction your boss gives by repeating it over and over again on your way back to your desk is not an effective tool in the workplace," McGurk said. "We're teaching people how to recognize what they should do before they're in over their heads."
In 2010, The Bridge New York, which provides mental health rehabilitation services, converted its outpatient program to a cognitive remediation model. That's partly because the New York State Office of Mental Health, a main funder for The Bridge, began demanding that such programs seek to move many mental health clients into the social and economic mainstream, agency social worker Daniella Labate said.
"The aim is not to have people sitting around in a room doing nothing for the rest of their lives," said Labate, who coordinates the agency's cognitive remediation programs.
Cognitive remediation — not to be confused with cognitive behavioral therapy — first helped to treat schizophrenia and schizoaffective disorder. Increasingly, it's being tested on those with depression, autism, anorexia nervosa, attention-deficit hyperactivity disorder and other conditions, said Alice Medalia, director of psychiatric rehabilitation at Columbia University Medical Center.