Hundreds of homes destroyed in Colorado's 'Black Forest Fire'
Scorched close to 16,000 acres
Moreau had to get out, and get out fast. So he pulled out and joined the thick traffic of other people trying to get out.
Not long after he arrived at his son Kevin and Sylvia's house, the fire had spread their way. Smoke was billowing above the couple's house.
Then, police cars raced up to the home, and officers told everyone to leave.
"Huge air tanker planes were flying right over the house," Bill Moreau said.
Kevin and Sylvia, concerned about their baby Emmet, tried to keep steady and calm.
They asked the Moreaus: What should we take?
Karen Moreau told them: Your wedding album, photo albums, Emmet's Pack 'n Play.
The entire family jumped into their cars and took off. At this point, drivers were moving fast, and some seemed panicked.
"I almost got hit by someone pulling a horse trailer," Bill Moreau said.
About 15 miles south, they found a hotel far away from the fire.
The next day
On Wednesday, around 5 a.m., Bill Moreau was feeling anxious. He couldn't sleep. He was worried about his house.
The fire couldn't be that bad, he thought, at least not dangerous enough to keep him from driving in the direction of his home with Lucy in the front seat of his Jeep.
He parked about a mile away and hiked the rest of the way in.
Relief fell over him. The house was fine.
So Bill Moreau sat on his deck, sipped some water while Lucy slurped from her water bowl.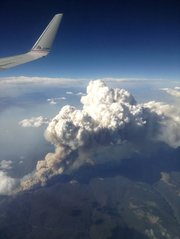 Before he left to return to the hotel, he even watered his wife's flowers.
Back at the hotel, he was feeling pretty good. Things were going to work out and they'd be home soon enough, he thought.
At around 5 p.m. Thursday, Kevin and Sylvia came charging down the hotel hall.
"The look on their faces was ... I was thought, 'Oh, no, did the kids' house burn down?' "
"And then they said to me, 'Your house is on fire. Turn on the news.''
He, Karen and the rest of the family watched flames lick their roof.
The picture was so clear that Bill Moreau was able to see Lucy's water bowl.
"It's just unbelievable to watch your house burn down on the news," he said.
'People have been so nice'
On Friday, Karen Moreau said sadness just comes over her and she has to take a minute.
She broke down in front of a hotel clerk who walked around the counter to hug her.
"People have been so nice," she said. "I just felt better after she did that."
The baby is bringing more joy than they thought possible. "Emmet is getting held a lot," Bill Moreau said.
While the Moreaus try to push on, officials say that the Black Forest Fire has scorched close to 16,000 acres and killed at least two people. Authorities said Friday that they are surveying about 7,000 homes in the area.
At an 11 a.m. briefing Friday, El Paso County Sheriff Terry Maketa said workers plan to have a couple of updates about homes throughout the day. Marked units are moving through neighborhoods, and if they see a door ajar or flames approaching a home, they call for firefighters, the sheriff said.
He said that he feels more encouraged about results of efforts to battle the Black Forest Fire and that authorities "gained some tremendous ground" when it came to identifying hotspots and saving structures.
"To me, it was the turning point we were looking for," he said, though he acknowledged conditions could change.
Some 750 firefighters have helped contain the blaze by 5%. With the help of helicopters and air tankers, they established a loose perimeter.
The fire's evacuation area was 93,000 acres, affecting approximately 38,000 people and 13,000 homes, and the flames were estimated to have burned through 15,700 acres, Maketa said.
There were other fires in the state as well, including in Grand and Huerfano counties. Black Forest was the biggest of the blazes.
Paul Vercammen reported from Colorado Springs; Ashley Fantz reported and wrote from Atlanta. CNN's Ed Payne, Dana Ford, Dan Simon, Greg Botelho, Shawn Nottingham and Dave Alsup contributed to this report.
Ashley Fantz and Paul Vercammen | CNN