A big day for the man of the house
It took a while, but Father's Day was finally instituted in 1972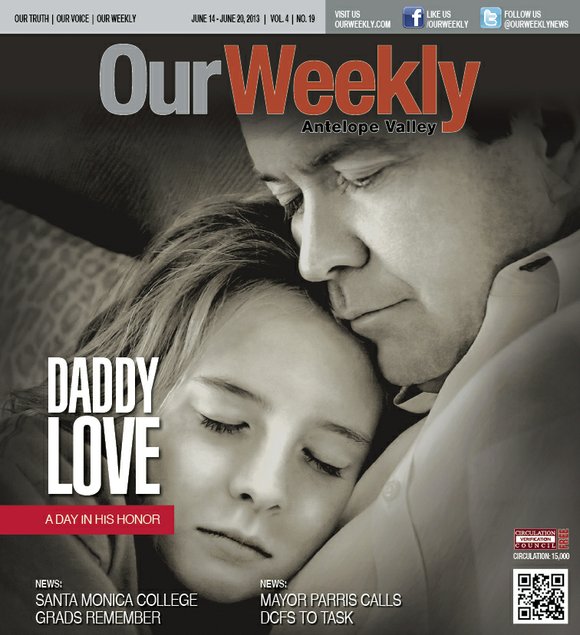 The six-acre Old West mining town-themed water park also features a 925-foot lazy river, a 35-foot waterslide tower, and a 6,000-square-foot children's water playground.
The Palmdale Pony League will host its 14th annual Father's Day Tournament tomorrow and Sunday at the Youth Baseball Complex at 38302 20th St. East.
The Antelope Valley Mall, 1233 Rancho Vista Blvd., Palmdale, today through Sunday, will distribute a free gift with the purchase of any Father's Day gift.
"What to buy dad?" has been a pressing question for generations, but today's father has much more to entice him as opposed to his dad or grandfather. Years ago, a tie and handkerchief, a tie tack, a money clip, a billfold, a new hat, a pocket watch or a shaving kit with mortar, brush and razor were the traditional gifts for dad.
Today, loved ones often splurge on aluminum ballpoint pens coated in lacquer, quartz watches, digital MP3 players, cordless drill sets, "carbon composite" golf clubs and "theater-wide" HDTV sets. The National Retail Federation estimates this year Americans will spend more than $12.5 billion for Father's Day gifts, about 30 percent of which is spent online. The average person will spend $88.80 on dad, while mom is lavished with $122.16 per person for her big day in May.
The newest items for the 21st-century dad include a tool-shaped bottle opener (resembling a hammer, pliers or crescent wrench) for $20, vintage darts with real feathers ($8 each), a tape dispenser for masking, painting with duct tape ($35) or a canvas iPad case also for $35.
Besides a steak dinner with all the trimmings, or a new putter or fishing reel, the biggest gift choices last year were taking in a ball game (generating $2.3 billion), electronics ($1.7 billion), gift cards ($1.7 billion) or books or music ($645 million).
You don't have to spend a lot of money to demonstrate your love for dad. Children often come up with the most touching gifts, because they are "from the heart," with imagination and affection. In fact, a 2012 survey conducted by the website CreditDonkey.com reported that 24.7 percent of fathers said they would like to receive something homemade:
•Handmade cards of construction paper, craft glue, a photograph of you and dad and a poem expressing your love.
•A personalized hammer is a unique gift for dad to keep in his workshop. Just take an old hammer, paint it a festive color and use a colored marker for a special message.
•A personalized ball cap is as simple as a white cap and fabric paint.
•Give dad his own coffee mug. Just get a white mug and some enamel paint and demonstrate your love for him during each coffee break.
•How about a "tube 'o cookies"? This simple gift requires an empty potato chip can, some colorful paint and a batch of hot, homemade cookies. How could he resist?
Generally, fathers are given gifts in the realm of home improvement, electronics and outdoor tools. There are no official ways to celebrate Father's Day, but many children will celebrate with a collect call (the most of any day of the year says AT&T), a meal out or a family gathering. In the U.S., some persons wear a red rose to honor dad, while a white rose is adorned if the father has passed away.