A big day for the man of the house
It took a while, but Father's Day was finally instituted in 1972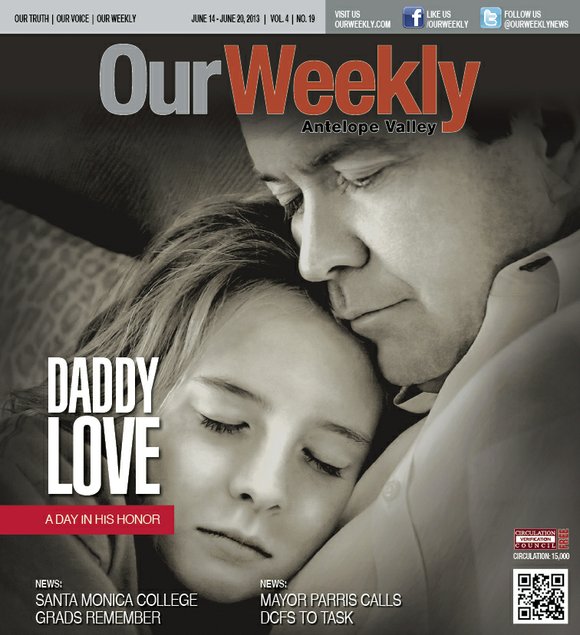 Though Father's Day falls on the third Sunday in June, "dear ol' dad" nonetheless deserves a special day off. The "honey-do" and "daddy-fix" lists can wait. On Sunday, fathers, stepfathers, fathers-in-law, grandfathers and even great-grandfathers nationwide traditionally put their feet up and enjoy the warmth of family.
Usually, dad is the first to fire up the grill on weekends, but Sunday may be an excellent time to treat the family patriarch to his favorite meal without the bother of lugging charcoal briquets, spraying lighter fluid and constantly waving smoke from your eyes:
• Texas Cattle Co., 44206 10th St. West, Lancaster, has been a popular location for celebrating dad and will feature a new, expanded menu this weekend. Favorites include baby back ribs, barbecue chicken, grilled salmon, ribeye and Porterhouse steaks. For reservations or more information, call (661) 948-3927.
• Outback Steakhouse, 1061 W. Avenue O, Palmdale, serves all of the backyard favorites with a special Australian twist. Its "Outback Steak Delights" are grilled to order, including Outback special sirloin and Victoria's filet. Other menu items include grilled shrimp and Ahi tuna, New Zealand lamb, baby back ribs and sweet glazed pork tenderloin. For reservations or more details, call (661) 274-9607.
• Black Angus, 44690 Valley Central Way, Lancaster, is another popular steak restaurant where dad can let someone else do the grilling. Among their popular menu items for Father's Day are either prime rib, filet mignon or top sirloin (all served with grilled prawns, fried shrimp and large lobster tail); New York strip steak, bacon-wrapped filet mignon, and bacon and bleu butter ribeye steak. For reservations, call (661) 942-5225.
• Sporting goods items are among the biggest sellers for Father's Day. Retail outlets often see a big rush for skis, fishing poles and tackle boxes, golf clubs, hunting rifles, bowling balls and, for the dad who remains young at heart, tennis racquets and jogging shoes. "This is one of our biggest sales days," said Leslie Estrada of Big 5 Sporting Goods in Palmdale. The store has had special Father's Day hours since Wednesday and will be open until 10 p.m. on Saturday.
"This year, some of our biggest sales items have been fishing equipment, golf clubs, hunting ammunition and lots of T-shirts and sunglasses," said Estrada. "We see lots of young adults coming in to purchase sporting items for their dads, and we also see older women making purchases for their husbands. This is always a big weekend for us."
Hunting rifles, shotguns and requisite ammunition are big sellers locally. In fact, Big 5 Sporting Goods in Lancaster counts Father's Day as its second-most profitable holiday behind Christmas. "Father's Day is a big sales day for us. We always get a good-sized crowd of shoppers looking for items," said Joe, a salesman at Big 5. "This year, firearms and ammunition have seen large sales. There are hunting ranges in the Antelope Valley, and people traditionally come in this time of year to prepare for the season."
Palmdale's DryTown Water Park will host a special "Bring Dad Free" promotion on Sunday. "Shower your dad with love this Father's Day by bringing him to DryTown Water Park absolutely free this Sunday," said DryTown recreation coordinator Laura Rice. "Race him down Dusty's Mineshaft Racer, DryTown's newest attraction; introduce him to the twists and turns of the Rattlers Revenge, and get him dizzy in the Devils Punch Bowl slide. It'll create memories that will last a lifetime."