Tavis Smiley Foundation, summer meals program and Oprah Winfrey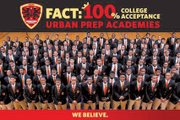 Illinois
The seniors at Urban Prep's Englewood campus and the inaugural graduating class from its West campus, all African American males, have repeated an accomplishment that some thought would be impossible. For the fourth consecutive year 100 percent of its graduating class were accepted to a four-year college or university. The seniors recently walked across the stage to receive their high school diplomas during Urban Prep's Fourth-Annual Commencement ceremony. The members of the Urban Prep 2013 graduating classes have been accepted to more than 130 different four-year colleges and universities, including Cornell University, Dartmouth College, Georgetown University, Howard University, Kenyon College, Morehouse College, the University of Illinois at Champaign-Urbana, the University of Notre Dame and the University of Pennsylvania. In addition, these young men have received more than $8 million in college scholarships and grants.
Maryland
NAACP Executive Vice President and Chief of Programs Steven W. Hawkins has been selected to take the helm of Amnesty International USA as its executive director. Hawkins has been a part of the senior leadership team that led the NAACP through a five-year period of financial growth and political prominence. Hawkins began his career as an attorney with the NAACP Legal Defense Fund, where for nearly six years he represented African American men facing the death penalty throughout the South. As executive director of the National Coalition to Abolish the Death Penalty, Hawkins developed several initiatives that addressed racial disparities in capital sentencing, including a campaign that ultimately led to eradication of the death penalty for juvenile crimes. Hawkins begins his new post in September.
New York
The Open Society Foundations in partnership with Echoing Green awarded the Black Male Achievement Fellowship to eleven social entrepreneurs dedicated to advancing the lives of Black men and boys in the United States. The entrepreneurs will receive $70,000 in seed funding for their innovative nonprofits. The BMA Fellows' nonprofits employ visionary strategies for building lasting and positive change. Some of the organizations' activities include providing entrepreneurship training for men in prison, making career day an everyday experience at school, creating pathways in technology, and leveraging condom sales to decrease teen pregnancy and HIV/AIDS rates. For a list of the awardees and their proposals visit opensocietyfoundations.org.
Pennsylvania
After delivering a passionate plea for adoption of his legislation to stop school districts from "passing the trash"—teachers suspected of sexual misconduct—the state Senate unanimously adopted Sen. Anthony Williams' SESAME bill. Senate Bill 46 now moves to the House for its consideration. SB 46, also known as the "Stop Educator Sexual Abuse, Misconduct, and Exploitation Act," is designed to close the loophole that now allows school districts to hire employees with a history of investigations and dismissals for abuse or sexual misconduct. After the vote, Williams said he was pleased with the unanimous vote, but said work remains to make sure SB 46 makes it to the governor's desk.
National
The Minority Access Internship Program provides students with the opportunity to merge academic theory with practical application in the workplace through full- and part-time internships. The program allows talented college students to experience the full scope and diversity of career opportunities available in the management, professional and technical domains of participating entities. Applications are accepted from full- time undergraduate and graduate students. Priority is given to students with a minimum 3.0 or better grade point average. Students must be U.S. citizens. All internships are paid positions. In addition, Minority Access Inc. provides bi-weekly stipends, round-trip travel expenses, employment benefits, daily commuting subsidies, and assistance in locating housing. For more details, visit www.findinternships.com/2013/05/minority-access-internship-program.html