Fathers working their way back home
Local, national groups are helping dads stay in their children's lives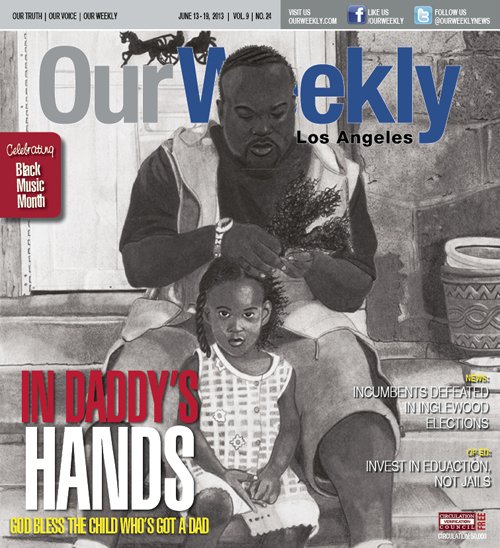 In 2012, Darwin Gray found himself feeling like a deer caught in the headlights. And it wasn't a bad feeling at all. In fact, the 44-year-old father of two daughters gets a little nostalgic when he thinks about what happened.
His then 7- and 12-year-old daughters and their mom had nominated him for an Honor Thy Father Award, and the action surprised him.
"I thought I was doing what every father does—sacrifice, work hard, facilitate their dreams and whatever they try to do. This is what fathers do," said the Los Angeles native, who grew up around Normandie and Washington boulevards.
What is particularly noteworthy about the honor is that Gray himself did not have a father in his life. His parents divorced when he was an infant, and because the relationship was abusive, his mother protected her eight children from their father's violence.
So how did Gray learn to be the kind of dad that would prompt his young daughters to publicly honor him?
"I took bits and pieces of positive men, role models. I had older brothers who have been married 28 and 25 years. I listened to the older guys," Gray said. He also wanted to be there for his own kids because his father was not.
Gray exemplifies what the Honor Thy Father awards are all about, said founder Denise Estelle, who produces the event under the umbrella of her Estelle for Humanity nonprofit.
"Honor Thy Father started because I wanted to recognize men in the community that were good fathers, role models and male mentors," said Estelle about the 11-year-old event. "As young women, oftentimes you see men with their children or coaching teens, and you want to hug them and thank them for being there. It's so very important (for children) to have men in their lives to look to for roles models and to draw on for strength."
Estelle speaks from the personal experience of growing up without her own father in her life, and sharing the love and caring that her sister's father lavished on his daughter, her sister, and eventually on her.
*
Jerry Milling believes his four children had every reason to hate his guts. The Hartford, Conn., transplant dragged them through his more-than-four-year battle with alcohol and drug addiction. He put them in situations that endangered their lives; for example, when he got his car shot up in Compton with his 5-year-old son in it. He missed his daughter's basketball games, was not there for his oldest son when a family crisis engulfed his life during his junior year in high school, and he left them with a string of broken and unfulfilled promises throughout their childhoods.
But rather than let his substance abuse embitter them, they just loved him, and it was that unconditional love that helped save him, said Milling.
"My youngest son would lay across me (at night) and wouldn't go to sleep until I went to sleep," remembers the Los Angeles resident, adding that his kids were literally afraid for his life.