California teen alleges captivity, sexual abuse on marijuana 'farm'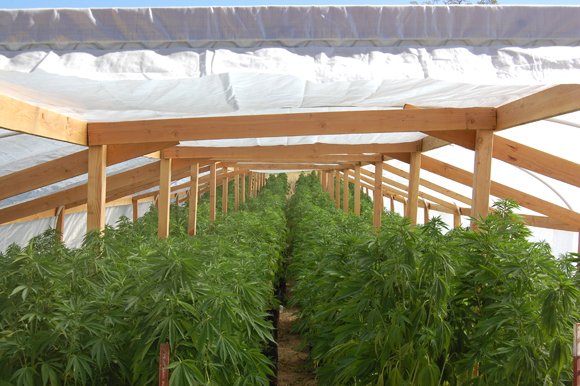 LAKE COUNTY, Calif. — Two Northern California men are due in federal court Wednesday in what began as another big pot-growing drug bust but what has become a horrifying story of one teenager's alleged torment, captivity and sexual abuse.
The criminal complaint against the two men — Ryan Balletto, 30, and Patrick Pearmain, 24 — outlines the allegations of a 15-year-old girl's ordeal of being held in a coffin-like box for hours on end at a marijuana-growing "farm" where she worked trimming plants.
Balletto and Pearmain were criminally charged in federal court earlier this month — and are in custody without bail — with conspiracy to manufacture and distribute more than 1,000 marijuana plants and with using a minor in a drug operation. Additionally Pearmain faces state charges of kidnapping to commit robbery or rape and unlawful sex with a minor. Balletto faces state charges of lewd and lascivious acts with a child.
Efforts Tuesday to reach attorneys for the two men were not successful.
The girl sometimes was held in a metal toolbox 4 feet long, 2 feet wide and 2 feet high, authorities said. According to the criminal complaint, she told authorities that the men "put her in the box to 'teach' her because they had a 'point to prove.'"
The girl referred to the marijuana operation as a "mission" and said the men locked her in the box to protect the operation, according to the complaint.
"Specifically, they did not want (the girl) to 'ruin the mission' or 'go off and say something about the mission,'" the complaint stated.
The box was hoisted at an angle to allow a hose to be inserted "to wash her off and rinse human waste from the inside of the box without letting her out," the complaint said.
Federal authorities declined to comment Tuesday on the whereabouts or current condition of the girl.
But a psychologist who had read about the case told CNN that he was shocked by the details and that he believes the girl will suffer from post-traumatic stress disorder.
"She is so different from, say, a POW ... She was in a box. She's going to need a lot of therapeutic treatment," said California-based clinical psychologist Mark Burdick, who is not involved in the case.
"This is obviously a very traumatic situation for her...It is cruel, cruel and unusual punishment for a 15-year-old girl, and she will undoubtedly need a structured therapeutic environment for what could be years," Burdick said.
According to the criminal complaint, federal agents began a suspected narcotics investigation in late 2011, and Balletto was one of the individuals suspected. Last August, agents identified land that he had bought in Lake County, California, north of San Francisco.
During a surveillance flyover of that land in April, a Lake County detective spotted two greenhouses that appeared to be full of marijuana plants.
Meanwhile, also in April, the Los Angeles Police Department "requested urgent assistance of the Lake County Sheriff's Department regarding a missing juvenile from the Los Angeles area," the complaint stated.