Pfc. Bradley Manning found not guilty of aiding the enemy, guilty on other charges
Sentencing phase of the court-martial is expected to begin Wednesday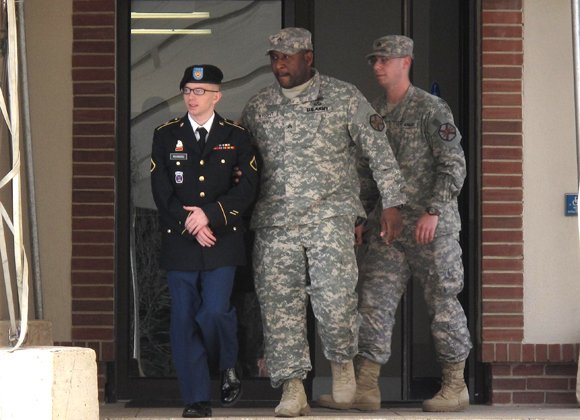 When he entered his guilty pleas on the lesser charges this year, Manning spent more than an hour in court reading a statement about why he had leaked the information.
He said the information he passed on "upset" or "disturbed" him, but there was nothing he thought would harm the United States if it became public. Manning said that he thought the documents were old and that the situations they referred to had changed or ended.
"I believed if the public was aware of the data, it would start a public debate of the wars," he said during his court-martial. He was "depressed about the situation there," meaning Iraq, where he was stationed as an intelligence analyst.
The young soldier from a small town in Oklahoma said that he first tried to give the information to The Washington Post, but a reporter there didn't seem like she took him seriously.
He left a voice mail for The New York Times and sent an e-mail to the newspaper but, he says, he didn't hear back.
So, he said, he decided to give the information to WikiLeaks.
At some point, according to a California hacker Adrian Lamo, who says he communicated via instant messaging with Manning, the soldier confessed to possessing sensitive documents.
Shortly after alleged texts between Manning and Lamo were published in 2010, Lamo spoke to CNN.
He said he turned Manning in to authorities. His reason?
"... it seemed incomprehensible that someone could leak that massive amount of data and not have it endanger human life," Lamo said. "If I had acted for my own comfort and convenience and sat on my hands with that information, and I had endangered national security ... I would have been the worst kind of coward."
As Manning's court case dragged on, in December 2011 his defense argued that the military didn't heed warning signs that the soldier was falling apart mentally.
A few months before Manning was arrested, Army command referred him to a psychologist for evaluation because he appeared to be "under considerable stress" and "did not appear to have any social support system and seemed hypersensitive to any criticism" and "was potentially a danger to himself and others."
WikiLeaks, Assange and Manning
Manning was arrested within months of a video that appeared on WikiLeaks in April 2010. The secrets-busting site called it "Collateral Murder." It appeared to be shot from a U.S. Apache helicopter as it fired on a group of people in Baghdad in 2007. A dozen people were killed; among them were a Reuters TV news cameraman and his driver.
The video showed that Reuters' Saeed Chmagh survived an initial strafing by the helicopter, but apparently died when it opened fire again — this time on people attempting to get him off the sidewalk where he lay and into a van.
The footage quickly made news, elevating what was once a virtually unknown WikiLeaks to a globally recognized name. Later, a U.S. investigation into the attack found that the crew mistook the journalists' cameras for weapons while seeking out insurgents who had been firing at American troops in the area.