A weekend of travel tragedies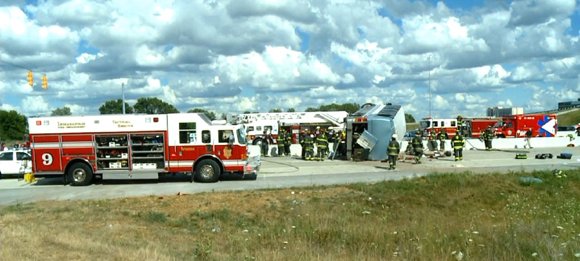 Five people, including a child, died in the crash, the county's coroner said.
The Robinson 66 chopper departed from Tri-Cities Airport in Endicott, New York, and was headed to Jake Arner Memorial Airport in Lehighton, Pennsylvania. Federal officials said earlier it had come from Greater Binghamton Airport.
Federal authorities are investigating.
Switzerland: Commuter trains collide
Two commuter trains collided head-on in western Switzerland Monday evening, between the cities of Moudon and Payerne.
Dozens were injured, several of them seriously, Swiss Railways spokesman Reto Schaerli said.
"We don't know why this crash happened," he said.
Floodwater sweeps tour bus downstream in Arizona
The driver of a tour bus loaded with passengers attempted to cross through floodwater that was at least 6 feet deep and 100 feet wide in northern Arizona on Sunday,
When fire department crews arrived, the bus had rolled onto its side and floated 300 yards downstream.
No one was injured or killed, but authorities didn't mince words when they described the situation Sunday.
"The occupants were extremely lucky to have survived," Northern Arizona Consolidated Fire District Chief Patrick Moore said.
"When you think of how much water it takes to float a bus 300 yards," he said, "you don't have to be a rocket scientist to know you shouldn't drive there."
CNN's Holly Yan, Karl Penhaul, Barbie Nadeau, Livia Borghese, Janet DiGiacomo, Ed Payne, Alina Cho, Greg Botelho, Mark Morgenstein, Sho Wills, Dave Alsup and Stefan Simons contributed to this report.
Steve Almasy and Catherine E. Shoichet | CNN