Embattled San Diego Mayor Filner to get intensive therapy
Seven women have said they were targets of the mayor's advances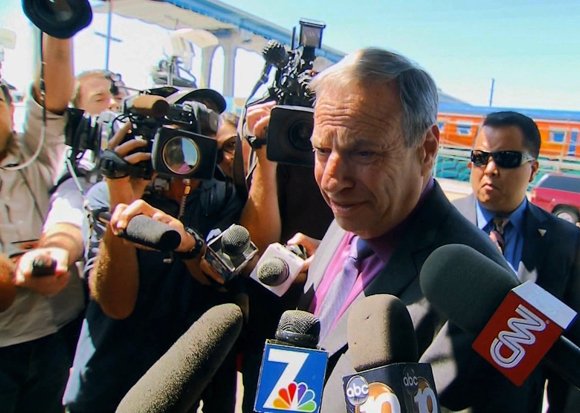 SAN DIEGO, Calif. — San Diego Mayor Bob Filner, publicly accused of sexual harassment by seven women, says he will enter "a behavior counseling clinic for two weeks of intensive therapy" starting August 5.
His chief of staff has resigned, his party has called for him to step down — even his fiancee has left his side.
Yet San Diego Mayor Bob Filner is standing firm as more women come forward with allegations of sexual harassment and more colleagues call for his resignation. He has called a news conference at 3 p.m. to "make a statement," his office announced Friday, offering no further details.
Seven women have publicly accused Filner of unwanted groping, kissing and other inappropriate contact. Many of the accusations allegedly took place during his five terms in Congress, before he was elected mayor last year.
Filner, 70, admitted to "inappropriate" behavior this month, saying he has "failed to fully respect the women who work for me and with me, and that at times I have intimidated them."
Yet, he has said he will not step down from an office he was elected to barely eight months ago.
"It's very important that I think we continue with my priorities, that's what I was elected to do," Filner said last week. "That's why I'm not resigning."
That was before he faced a lawsuit from his former spokeswoman, filed Monday. And it was also before his own Democratic Party in San Diego overwhelmingly voted Thursday in favor of him vacating his office.
Here's a breakdown of who's accused the mayor of what, and the impact of those allegations:
The accusers
Irene McCormack Jackson
Jackson filed a lawsuit against Filner on Monday, saying she and other women were subjected to his "crude and disgusting" comments and inappropriate touching. She said she resigned as Filner's communications director in June after deciding that the mayor would not change his behavior.
"I had to work and do my job in an atmosphere where women were viewed by Mayor Filner as sexual objects or stupid idiots," Jackson said. She said he asked her to work without underwear and made repeated sexual advances toward her.
"He is not fit to be mayor of our great city. He is not fit to hold any public office. A man who lacks character makes a mockery of his ideas," she said.
Jackson said Filner "refused to listen to someone he had known for 35 years, and who told him explicitly, during a senior staff meeting, that his behavior with women was terrible and possibly illegal."
Filner "laughed it off," she said. She said Filner challenged her to provide one example of improper behavior; when she brought up his comments about wearing underwear, "he had no comeback," she said.
Laura Fink
After hearing of Jackson's lawsuit, political consultant Laura Fink came forward with her accusations against Filner on Tuesday, saying the then-congressman patted her "posterior" at a fundraising dinner in 2005 when she working as the deputy manager of Filner's congressional campaign.
Fink said she didn't go public with the incident at the time because she was trying to build her political career.
The alleged sexual harassment occurred at the fundraiser, where Fink guided Filner from table to table.
One guest told Filner that Fink "had worked her tokus off," Fink said.
"The congressman told me to turn around and patted me on the bum and said, 'Nope, it's still there' and laughed," Fink told CNN.
Fink wrote to Filner's chief of staff and demanded that Filner apologize, she said.
Filner responded, and "he mumbled an apology" and added something "I just did not understand," Fink said.
On Wednesday, Fink told CNN that Filner should resign.