Police sergeant on desk duty during probe over Boston bombing suspect Dzhokhar Tsarnaev images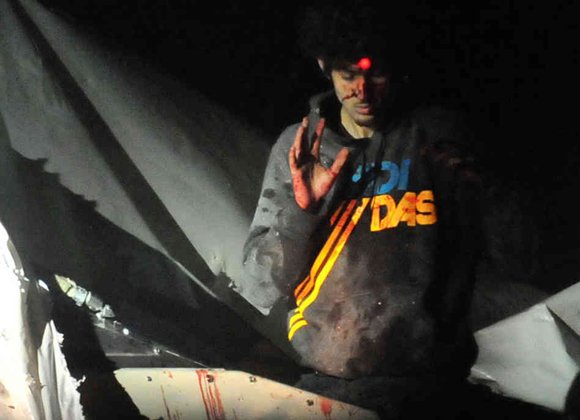 BOSTON, Mass. — A Massachusetts State Police sergeant will be on desk duty pending the outcome of an internal investigation over his unauthorized release of photos showing the hunt and capture of one of the Boston bombing suspects.
Boston magazine published the images Thursday, along with a story quoting Sgt. Sean Murphy.
The sergeant said that a cover on Rolling Stone was "an insult" to the victims of the April terror attack because, in his view, it didn't portray Dzhokhar Tsarnaev the right way.
Murphy was "furious" with the Rolling Stone cover, the Boston magazine story said, so the sergeant provided the publication with grittier pictures from the harrowing hours after the bombing. These included an image of Tsarnaev during his capture with his face buried in his arm and what appears to be a red laser trained from afar on his head.
Hours after the Boston magazine story appeared online, Murphy was suspended for a day, and State Police spokesman David Procopio told reporters that a hearing Tuesday before three state police commissioned officers would determine how the sergeant would be disciplined.
Their options included letting Murphy remain on full or restricted duty or suspending him with or without pay during the investigation, Procopio told CNN.
After the hearing Tuesday, attorney Leonard Kesten stood beside Murphy along with Dana Pullman, president of the State Police Association of Massachusetts.
Pullman told reporters that Murphy had been placed on restricted duty, which he explained meant desk duty.
Kesten previously had said that "terminating" Murphy "would be the wrong message to send to everyone."
"He acted from the heart," Kesten said, adding that Murphy "showed courage in putting it out there with his name on it."
The attorney also said that Murphy's actions would not affect the prosecution of Tsarnaev. "The guy was captured live on TV — helicopter shots," the lawyer said.
The sergeant's teenage son stepped in front of microphones to tell reporters that he was fully behind his father.
"My dad's kind of always been a huge hero to me, and throughout this process he's shown the characteristics that I hope to some day model myself after," Connor Patrick Murphy said. "If I could be one-fourth the man he is now, then I could be happy with my life. Couldn't be prouder."
Different images and portrayals
The Rolling Stone cover showed Tsarnaev with tousled hair and a peaceful-looking face.
An image Boston magazine said that Murphy provided showed the bombing suspect bloody, looking down, his shirt raised and what looks like a red-dot laser trained on his forehead.
"This guy is evil," Murphy, a tactical photographer, was quoted in the magazine. "This is the real Boston bomber. Not someone fluffed and buffed for the cover of Rolling Stone magazine."
In the span of five days, more than 58,000 people have "liked" a Facebook page supporting Murphy, calling him a hero and lambasting the idea that his bosses would harshly discipline him.
A message about the outcome of the hearing Tuesday got more than 700 "likes" within a couple of hours.