National Transportation Safety Board to investigate Southwest incident at LaGuardia airport
A passenger describes "a bang and a bounce" as the nose gear fails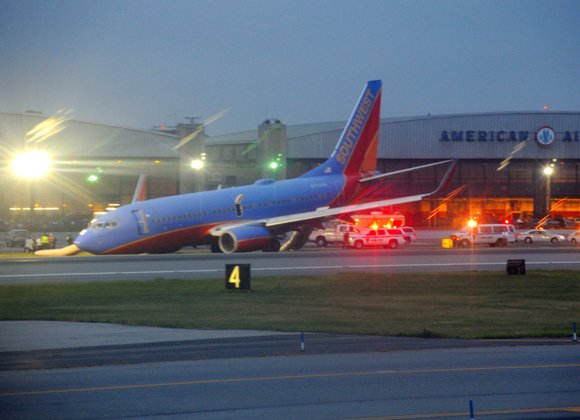 Initially, the FAA said the crew reported a possible nose gear problem before landing but later amended that to say no issues were noted ahead of time after a review of air controller tapes.
The 737 has a conventional hydraulic landing gear system — a unit under each wing and a steerable wheel that extends from under the nose.
Pilots can land safely with only the main gear operable as those wheels absorb the weight of the plane when it first meets the runway. The nose is then set down for the remainder of the landing roll.
Nose gear problems on commercial jets occur from time to time, but the crew normally would be alerted to any issue during approach by warning lights and would have time to abort a landing or come in on just the back wheels.
Southwest is the biggest domestic airline and flies only 737s. It has more than 600 of the workhorse aircraft in its fleet.
Monday's incident followed a runway crash of an Asiana Airlines jetliner in San Francisco last month.
Investigators in that crash will not determine a cause for several months at least, but initial attention has focused on actions of the crew during approach.
CNN's Caleb Silver contributed to this report.
Mike Ahlers | CNN