Nationwide rallies demand 'Justice for Trayvon'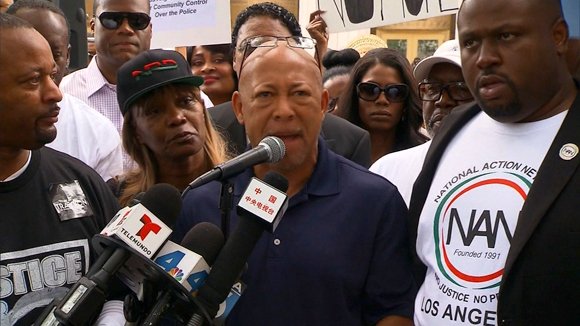 The parents of Trayvon Martin joined thousands of Americans at more than 100 scheduled vigils in cities nationwide demanding Saturday what they described as justice for their 17-year-old son, who was shot dead last year.
"It's overwhelming," Tracy Martin told CNN at a rally in Miami attended by hundreds of supporters, many of whom chanted, "No Peace! No Justice!"
"It sends a message to the nation that we're not going to sit back and let our children be killed and don't say anything about it."
Surveying the crowd, he said, "This is what keeps us going—all of these people that are out here to support us: white, black, brown. There's a mixture of people. Everybody is out to support not only Trayvon, but their children as well."
Last week, a jury in Sanford, Florida, found neighborhood watch volunteer George Zimmerman not guilty of second-degree murder in the 2012 killing outside Tracy Martin's house. Zimmerman, a white Hispanic, said he fired in self defense after Trayvon Martin attacked him. The unarmed teen was carrying a soda and a bag of candy.
This week, a gun shop in Volusia County, Florida, 15 minutes from where Zimmerman lives, offered the freed man a free gun.
Pat Johnson, president of Pompano Pat's, extended the offer in what he said he thought would be a private letter to Zimmerman.
Johnson faxed the offer to Zimmerman's lawyer Mark O'Mara after news stories reported that Zimmerman could not get his Kel-Tec PF-9 from authorities.
"Upon receiving your confirmation that he is well within his legal rights to concealed carry, our company would like to offer Mr. Zimmerman a free firearm," says the letter. "We have read numerous reports of death threats against your client and believe no good would come from harming him."
Johnson told CNN in a telephone interview that he did not realize that O'Mara was also working as a legal analyst for CNN affiliate WKMG in Orlando.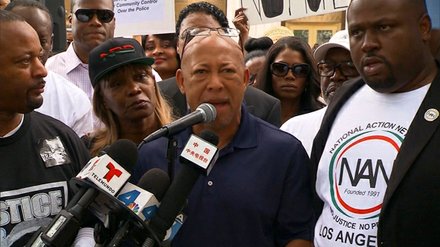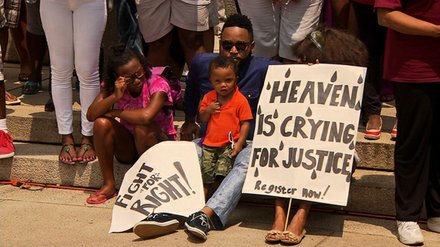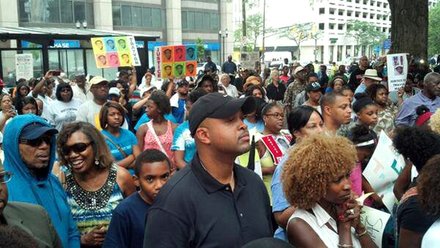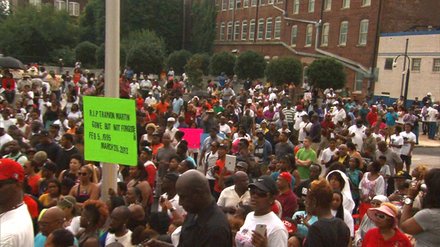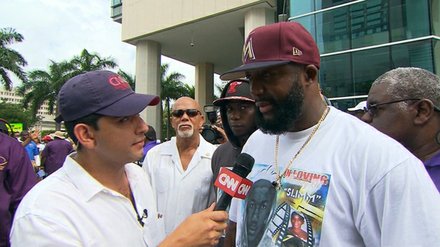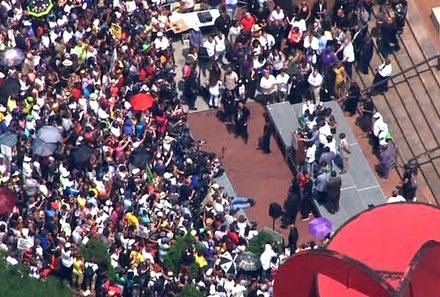 After O'Mara reported about the offer, Johnson said he himself began receiving death threats.
"These people that claim that they are nonviolent, that they are liberals, that they want peace—it's not adding up," he said. "The purpose of giving Mr. Zimmerman a gun is so he can protect himself and there's not another death. Is that what these pacifists want? Do they want him dead? Is that what they're looking for? Is that going to bring Trayvon back?"
Johnson, who said he had not received a response to his offer, said the vehemence of the other responses was telling. "These people, I believe, would rather see him dead and what is that going to answer? Now you have two grieving families—the Martin family and the Zimmerman family."
On Friday, President Barack Obama said Trayvon Martin "could have been my son ... could have been me, 35 years ago."
He also encouraged more attention to racial profiling and "stand your ground" laws.
Tracy Martin said Saturday the president's remarks "touched our heart."
"We admire the president for stepping up and doing that because it sends a message to the world that this could have been anybody's child and there's no exceptions as to whose child it could have been," he said. "We have to do something to corral the senseless violence."